Dimasalang III Art Exhibit at the Philippine Consulate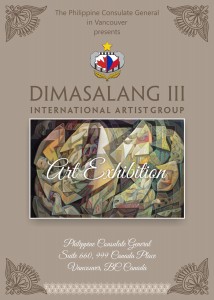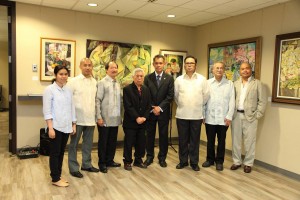 Members of the Dimasalang III International Artist Group opened their group exhibit at the Philippine Consulate General in Vancouver on August 4, attended by community leaders and local art aficionados.
Consul General Neil Frank Ferrer welcomed the participation of the artists as part of the celebration of the 60th Anniversary of the Philippine Consulate in Vancouver. The exhibit will remain on display for six months to showcase the works of the participating artists to the local community and to visiting officials and guests of the Consulate.
Dimasalang III is a registered non-profit society in BC dedicated to promote contemporary arts and culture in the community. It was founded in by Sofronio Ylanan Mendoza, better known by his initials SYM, a multi-awarded legendary artist in the Philippines. He also founded Dimasalang I and Dimasalang II Artist groups in the country whose members are now well-known in the Philippine art scene. At the height of his career, SYM and his family immigrated to Canada where he unselfishly shared his vast knowledge, expertise and philosophies relating to art. SYM gathered young people with talents in art in his Richmond home, teaching them, firing up their imagination and nurturing their artistic talents. Eventually, this led to the formation of Dimasalang III in Canada composed of his former students and those who joined later. Inspired by their mentor, many of the members are now artists in their own right and have received awards in art competitions.
Leo Cunanan, Jr. new president of Dimasalang III explained that the group's aim is to raise awareness and appreciation of contemporary visual arts not only in the Filipino-Canadian community but in the mainstream society as well; to provide opportunities to aspiring artists and encourage them to compete in the art world beyond the limits of their God-given talents.
The exhibit displays the works of the following artists: SYM Mendoza, Rod Pedralba, Jess Hipolito, Maria Apelo Cruz, Andy Naval, Chito Maravilla, Antonio Dizon, Rudy Tuliao, Francis Herradura and Leo Cunanan, Jr.
Delicious Food catered by Grandt Kitchen
Photos by Angelo Siglos