BC'S FILIPINO CROWN PROSECUTOR is also a master of the Filipino martial art of eskrima
BC'S FILIPINO CROWN PROSECUTOR is also a master of the Filipino martial art of eskrima
By Israel Cando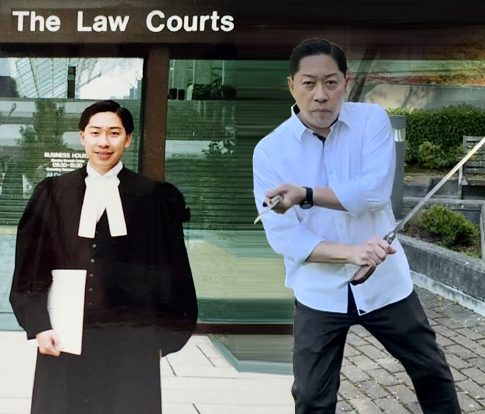 Swinging a talibong, also known as a bolo or sword in one hand and his daga or dagger on the other, Winston Sayon demonstrated the fundamental movements of eskrima to us one Sunday afternoon. The coordinated movements of his feet and hands clearly show how difficult the actions are and reveal how much time it takes to master this Filipino martial art. And that is exactly what Sayson is: A master. A master not only in this centuries old Filipino martial art, but more importantly, a master of laws for British Columbia's prosecution service as well.
Sayson is a retired crown counsel who served more than three decades with the BC Prosecution Service under the Ministry of Attorney General. His cases in court spreads from homicide and serious injuries to domestic violence and child abuse.
For his work, he was appointed as a Queen's Counsel in 2011 by the BC Attorney General for exceptional merit and professional integrity.
In 2019, the Surrey Women's Centre recognized Sayson for his excellence and commitment to justice for women and girls who are victims of sexual assault and domestic abuse.
And more recently, Sayson was one of the top-25 awardees of the Canadian Immigrant magazine held in Toronto, Ontario. The magazine recognized Sayson's excellence as a trial prosecutor and community volunteer.
"I was exceedingly surprised and at the same time deeply humbled by the recognition. Because I know and remember the many who toiled in obscurity and are not recognized. So I am honoured and privileged" explained Sayson.
While it may seem that Sayson is somewhat enjoying the recognition he is receiving today, it wasn't a bed of roses for him in the beginning.
Sayson was just a college freshman at the University of the Philippines when he and his family moved to Canada back in 1981. His family was involved in the construction supply business in Manila and encountered some difficulties with the military during the Marcos martial law years.
Sadly, fours years after landing in Canada, his father died from an unexpected stroke.
In a later interview with the Vancouver Sun, Sayson remembers one of the most important lessons in life his father gave him and his siblings: A single stick is easily broken. But if you bundle enough thin sticks together, the bundle is stronger.
With this in mind, he found himself selling encyclopedias and working in fast-food restaurants to help his family and at the same time put himself through university and law school. His in-laws from Davao City also pitched in.
In 1989, Sayson earned his law degree at the University of British Columbia after getting his bachelor's degree at UBC and at Kwantlen College (now known as Kwantlen Polytechnic University).
He would later return to Kwantlen for further studies in counselling which would help him in his legal skills and practical knowledge in interacting with vulnerable victims and witnesses through the legal system.
"My father reminded me before we came to Canada (about) a quote from President John F Kennedy where he said: Ask not what your country can do for you but ask what you can do for your country. And that I took to heart, and I did what I can through volunteer work, through diligence, through excellence in my work, to serve the people of British Columbia and in this case the victims of crime and as well, just to make sure that justice is appropriately and fairly administered against accused persons," Sayson proudly recalled.
However in 2019, after thirty one years of service, Sayson's cases took its toll on his health and pushed him into early retirement — which he originally planned for 2023.
His experience in the trial court and the demands it brought made him a believer in the value of mental health in criminal court proceedings. This is the reason why he spends most his time today mentoring new lawyers and helping them prepare for the difficult path ahead.
"I am now involved in teaching and mentoring new lawyers and law students which is deeply meaningful for me."
Sayson also added that he is proud that Filipino-Canadians today are now recognized in different fields of profession and are not limited to stereotype roles anymore.
"We are beyond nursing, which is a wonderful profession. We are beyond yayas which is also a wonderful profession. Or working in janitorial, cleaning, and maintenance. We are (now) represented in the arts, in law, in sciences and other professional areas. And we have demonstrated that we are capable of excellence in contributing in a very solid and meaningful way to Canada."
While his time today mostly consists of mentoring young legal minds and mastering the moves of eskrima, we couldn't help but asked whether politics is in his future. It was during this time that Prime Minister Justin Trudeau announced the appointment of Rechie Valdez, the first Filipina ever to be elected as member of parliament, into his cabinet as Minister for Small Business.
Sayson candidly explained that while he never really entertained the idea of entering politics, he is not closing any doors that might open in the future.
"No, not at this time but all options are open. I'm relatively young, or at least I would like to think so, and I still look young, I think. So yeah, that is one option that is out there, but I have not given it much thought."