Mr. Jose Mari Chan and The CompanY concert November 10, 2023
Mr. Jose Mari Chan and The CompanY concert November 10, 2023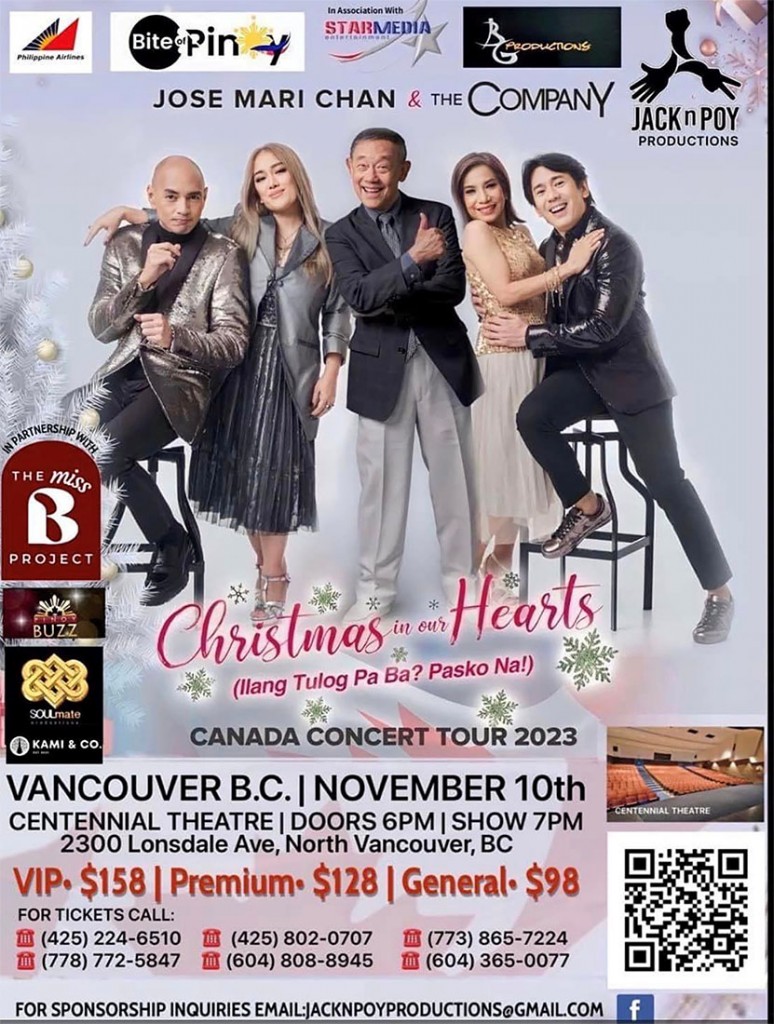 This November, get ready to feel the Pinoy Christmas spirit as Mr. Jose Mari Chan and The CompanY come and sing your favorite holiday tunes, live in 𝐂𝐇𝐑𝐈𝐒𝐓𝐌𝐀𝐒 𝐈𝐍 𝐎𝐔𝐑 𝐇𝐄𝐀𝐑𝐓𝐒 (𝐈𝐥𝐚𝐧𝐠 𝐭𝐮𝐥𝐨𝐠 𝐩𝐚 𝐛𝐚? 𝐏𝐚𝐬𝐤𝐨 𝐧𝐚!) concert tour!
Catch them on:
𝗡𝗢𝗩𝗘𝗠𝗕𝗘𝗥 𝟭𝟬, 𝟮𝟬𝟮𝟯
VANCOUVER, BC
Centennial Theatre, 2300 Lonsdale Avenue, North Vancouver
"Christmas In Our Hearts" is one of the biggest hits of Chan. In a previous ABS-CBN interview, he expressed his gratitude for their love for the Christmas tune, no matter their religious beliefs, more than 30 years since it was first released.
Chan's other holiday classics are "Going Home To Christmas" and A Perfect Christmas."
Meanwhile, the acapella pop group The CompanY, composed of Ortiz, Annie Quintos, OJ Mariano, and Sweet Plantado, is known for their hits like "Everlasting Love," "Muntik Na Kitang Minahal," and "Now That I Have You."
Tickets: https://www.eventbrite.com/e/christmas-in-our-hearts-tickets-692402292897?aff=oddtdtcreator