Avelyn BacenaZiebart is Vancouver's Flower Girl By Israel Cando
Avelyn BacenaZiebart is Vancouver's Flower Girl
By Israel Cando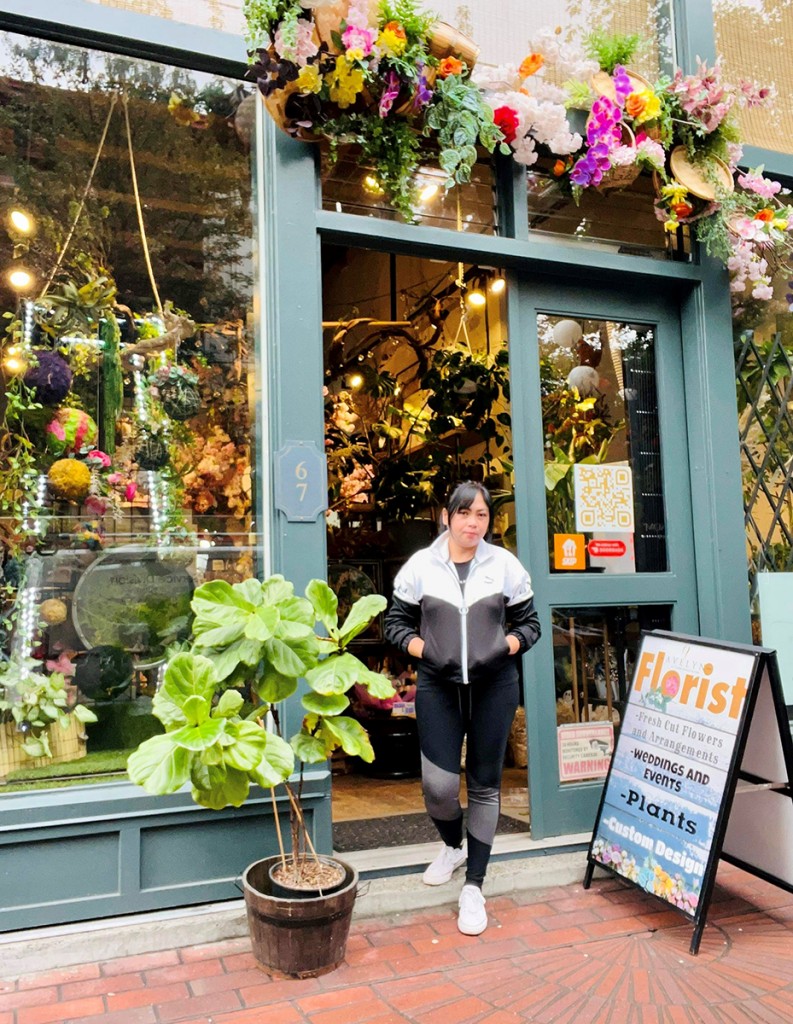 Just along the cobblestoned streets of Gastown hangs two graying wooden glass doors that seemed to be just like any other doorway in Vancouver's historical district.
But when you enter these doors, you're immediately transported into an almost magical garden filled with colours of green, red, pink, and even blue. Divine scents of rose, jasmine, and lavender float around the shop and makes you stop and ask – how can a place like this even exist in the middle of a city filled with concrete, steel, and glass like Vancouver? Well, apparently it does, and it's owned by Filipino-Canadian florist Avelyn BacenaZiebart.
Avelyn started Avelyn Florist during the pandemic back in 2020.
Avelyn, who was thinking of being an interior designer, was prodded by her husband to try the floral arrangement course instead because she has a natural talent of working with her hands. Her husband even volunteered to pay for her first term in school.
Once class started, it was love at first touch when Avelyn started working with flowers and other types of floral arrangements. Afterwards, she moved from shop to shop wanting to learn more from this delicate art.
"Parang naisip ko wow ganitopala mag-arrange. So tinuloy-tuloy koyung course hanggang nakuha ko 'yung diploma. Tapos sabi ko parang hindi enough. So sabi ko para naman malaman ko kung ano pa 'yung mga technique nag-apply ako sa maraming flower shops."
That was early 2020.When the month of March arrived, so did Covid.
In less than a month, the pandemic has spread throughout Canada and around the globe. Avelyn was out of work.
"I think March 'nun. Wala na akong work. Sabi ko I think I can open my own shop. May kakilala rin ako na nakatrabaho ko nana-guide din ako to open my own shop"
Now, opening a business in the middle of the pandemic was not Avelyn's first bout against adversity.
Likea number of Filipino immigrants before her, Avelyn arrived in Canada as a contract worker and worked as a caregiver back in 2005. In her first year, most of her earnings were almost gone because she was sending it back to her family back home in the Philippines.
But the challenge of being alone in a foreign land did not break her spirit. Instead, Avelyn tirelessly worked hard. She even doubled up as a housekeeper just to earn something extra.
With grit and perseverance, Avelyn was able to bring her whole family to Canada after only a few years.
"Kinuha ko 'yung mga kapatid ko dito. Pati 'yung mother ko. Lahat kami nandito. Tapos 'nung settled na sila, 'yun na.Dun na and ang sabi ko it's my turn."
Now facing the challenge of the pandemic, Avelyn would muster again all her will and all her strength to start her own business. This was her dream after arriving in Canada. Nothing will stop her.
Avelyn used all her savings to put up the capital to fund her business. She did not borrow any money from the banks or even from other people. She was bent to stretch her every dollar and make her business work.
Surfing the internet, she found deals in markets for her flowers. She went as far as looking for freebies like woodcrafts for her décor. Avelyn also did her own deliveries within the city. The only things she paid for are her used coolers and shelvings for the shop.
"Mahirap kasi ako lahat ang gumagawa eh. Ako po ang nasa social media. Updating ng website. Tapos pag-uwi ko ng bahay mag-email na ako instead dun sa mga anak ko. So binibigyan ko ng time 'yung mga anak ko pero 'alam ko ng matutulog dun ako mag-email ng mga clients na nag tatanong ng mga questions. Nag-inquire sila. Tapos through phone. Tapos mi-meet ko sila."
Avelyn's hard work paid off because the pandemic opened a new opportunity for entrepreneurs like her with the coming of the online delivery industry. This was the golden era of Amazon, mobile retail apps, and online food and grocery delivery. Purchasing flowers and other gift items for loved ones affected by the pandemic was in very high demand.
In her first year, she gained close to ninety percent return from her initial capital.
In the succeeding years, she was also able to expand her floral business to private and corporate events in the Lower Mainland – and even going as far as Toronto.
Today, while her floral shop and all other businesses are struggling with inflation, Avelyn is confident she will be able to weather this storm as well, using the same tools she had when she first landed in Canada as a contract worker and when she started her business during the pandemic: a lot of hard work, perseverance, and the courage to take risks.
Avelyn advises fellow Filipinos that there are absolutely no secrets to success.
"Huwag silang matakot. Subukan nila. Kasi kung hindimo naman talagasusubukan hindi mo malalaman. Yung iba naman natatakot paano 'pagnalugiako? Talagang hindi mo alam ang future kaya talagangdapatsubukan. Tanggalinmo 'yungmalulugi ka. Kasi 'pagnandun ka na talagang magwo-work ka eh. Sasabihin mo sasarili mo hindi puwede ito."
Clearly, after several challenges and successes, Avelyn knows what she's talking about.