In Joey's CompanY Canada Tour 2020
"In Joey's CompanY": Relive the OPM Soundtrack of Your Love Story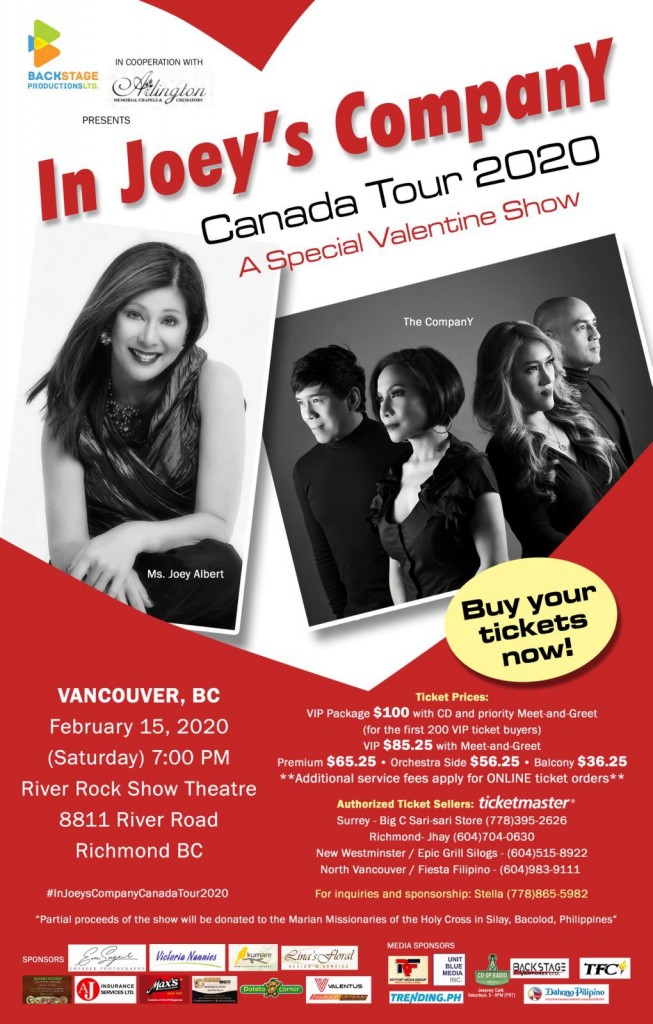 Vancouver, BC (December 19, 2019) — The Philippines' premiere singers, Joey Albert and the CompanY, will serenade guests at the River Rock Casino Show Theatre for a post-Valentine's Day concert on February 15th, at 7:00PM. Classic and iconic OPM love songs from these artists' hit repertoire promise to have you falling in love again. Tickets are available at Ticketmaster (**Additional service fees apply for ONLINE ticket orders**) and through authorized ticket sellers in the following areas:
Surrey – Gary (778) 839-7795
Richmond- Jhay (604) 704-0630
New Westminster / Epic Grill Silogs – (604) 515-8922
North Vancouver  / Fiesta Filipino – (604) 983-9111
 "This special Valentine show underscores our commitment to create an exceptional concert experience for our fellow kababayans here in Canada," said Stella Reyes, Backstage's President and Creative Director. "It is a significant strategic move to bring the Philippines' top artists and put up an excellent show for our discerning audience. We invite everyone to witness their artistry and see why they were recently awarded with yet another Aliw Award to add to their collection of accolades."
 The Aliw Awards is an annual awards show by the Aliw Awards Foundation, Inc. It was established by well-known Philippine journalist Alice Reyes, to recognize achievements in the live entertainment industry in the
Philippines. Founded in 1976 in Manila, it is the pioneer in giving awards for excellence in theatre, opera, dance, live vocal and instrumental shows.
 "Those watching the show will be treated to a repertoire of romantic songs and crossover hits. Music from our number one chart stoppers and well-known love songs in honor of the Valentine's season" added Joey Albert, an award-winning artist who has performed in Indonesia, Hong Kong, many European countries and in the Middle East, as well as in North America. "Come to the show and fall in love over and over again." Some of the songs that will be performed are Albert's certified hits "Tell Me" and "Million Miles Away".  Among The CompanY's most requested are "Now That I Have You", "Everlasting Love" and "Muntik Na Kitang Minahal".  "This concert tour will feature the very best of the Philippines and the best of us, Filipinos. It's an all Original Pilipino Music (OPM) repertoire.  Costuming will be moderne Filipiniana. Songs will be characteristics, values and story that honour, acknowledge and celebrate the best in us  Filipinos". "The show will be unapologetically and wonderfully Filipino through and through. Expect songs of the Philippines' best composers like Maestro Ryan Cayabyab and Louie Ocampo. It will still be highly entertaining and enjoyable.  Expect the big hits of The CompanY and Joey Albert as these are OPM classics," said Moy Ortiz, The CompanY's lead artist-spokesperson.
"In Joey's CompanY Canada Tour 2020" is made possible by Backstage Productions in cooperation with Arlington Memorial Chapels and Crematory, and in collaboration with Fil Arts Events Management of Edmonton, Black Diamond Event Management | D & G Productions from Toronto and Winnipeg's Beyond Limits Production.
Proudly supported by Kumare Bakery and Restaurant, Victoria Nannies, Valentus Slim Roast Coffee, Lina's Floral Design and Services, AJ insurance Services, Backstage Ventures and EM Sager Photography.
In media partnership with The Filipino Channel (TFC), RF Media Group, Unit Blue Media, Dahong Pilipino, Trending.PH and Jeepney Café/Co-op Radio CFRO 100.5 FM.
Grab your tickets early! Ticket Prices:
– VIP Package $100. with CD (while supply lasts) and priority Meet-and-Greet
– VIP $85.25 with Meet-and-Greet
– Premium Orchestra Centre $65.25
– Orchestra Side $56.25
– Balcony $36.25
ABOUT JOEY ALBERT – https://en.wikipedia.org/wiki/Joey_Albert
Ms. Joey Albert, an Original Pilipino Music (OPM) icon was born in the Philippinesand catapulted onto the Philippine music scene in 1984 with the release of her debut album Joey Albert featuring the hit singles "Tell Me" and "Over and Over". Her most loved songs include "I Remember the Boy", "Without You", "Ikaw Lang ang Mamahalin", which solidified her position in the OPM genre.
She is a singer, songwriter, actor, host and champion fund-raiser for the Canadian Cancer Society and numerous Marian ministries in the Philippines.
ABOUT THE COMPANY – http://www.thecompanysingers.com/
The CompanY (stylized as The CompanY) is a vocal group based in the Philippines. Its current members are Moy Ortiz, Annie Quintos, Sweet Plantodo and OJ Mariano. The CompanY has released more than 20 albums to date with unforgettable singles including "Everlasting Love", "Pakisabi Na Lang", "Muntik Na Kitang Minahal" and "Now That I Have You".
 ABOUT BACKSTAGE PRODUCTIONS LTD.
Backstage Productions Ltd is a live production and entertainment company specializing in concerts production and promotion, live shows/events and ticket selling based in British Columbia, Canada. Formed in 2015 by Stella Reyes, the company's business was built around producing and staging world-class show for the Filipino-Canadian community here and abroad.
Contact:
Unit Blue Media
Stella Reyes
(778)865-5982
UnitBlueMedia@gmail.com