The 14th Annual Mighty Asian Movie Making Marathon Screening and Gala
The 14th Annual Mighty Asian Movie Making Marathon Screening and Gala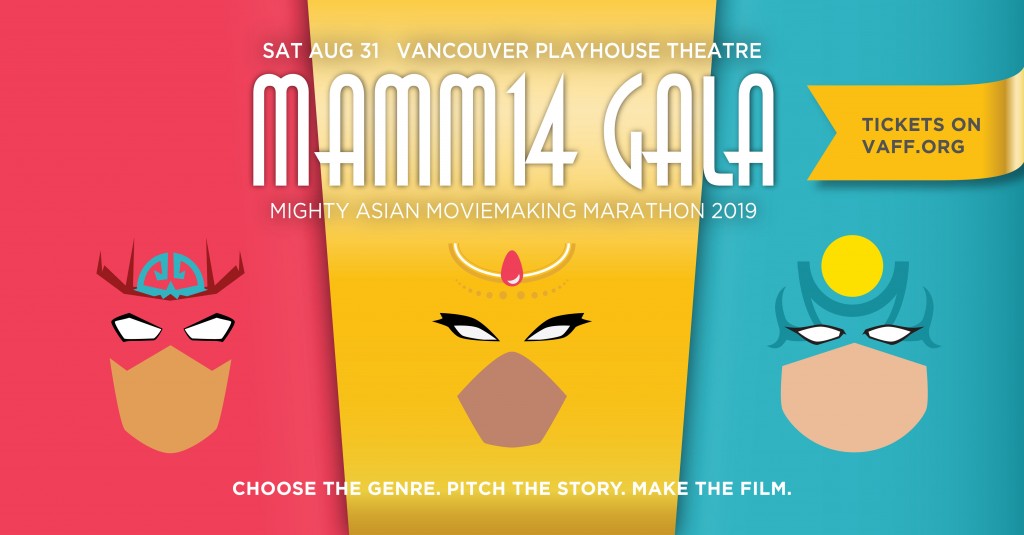 The Mighty Asian Movie Making Marathon (MAMM) 14 production and filming has finally wrapped up and the teams will be presenting their final films at the Gala Screening this Saturday, August 31st, 2019 at the Vancouver Playhouse (600 Hamilton Street, Vancouver, presented by the Vancouver Asian Film Festival (VAFF).
Come cheer on the teams under the 10 minute short film category: Team MTR, Team Rocking on Air, Team Arrival of the Fittest, Team Simulacrum, Team Shining Light Studios, Team Be Good, Team Thirst, Team Mushroom Head Media. As well as the teams under the  1 minute ultra short film category: Team Be.Good, Team Sprout, Team KoreanCanuck, Team The Fresh Breeze, Team Wen & John, Team CBE Inc. Ultra Short, Team Dynamite. The winners will receive cash and in-kind prizes. The audience will also be voting for the best of the best through the Fan's Choice Award. You'll also have a chance to congratulate your favorite team in person at the MAMM14 after party.
Another surprise will be unveiled for the first time during this event, so you want to stick around for the big news!
Tickets to the Gala Screening can be purchased in advance for $15 online by visiting http://vaff.org/mamm14/ and for $18 at the door. Ticket prices include entry to the Gala Screening & Awards Presentation, VAFF Membership, and After Party. For tickets and details, visit https://mamm14gala.eventbrite.ca or email mamm@vaff.org
About the Mighty Asian Movie Making Marathon (MAMM) 
MAMM, now on its 14th year, is the premier short filmmaking competition by the Vancouver Asian Film Festival (VAFF). MAMM offers a platform for filmmakers to showcase their talents to both moviegoers and potential distributors alike. The competition lasts for 10 days wherein contestants use this time to produce their short films. MAMM does not only provide opportunities for filmmakers, but provides great experience throughout the process as well.
About the Vancouver Asian Film Festival 
The Vancouver Asian Film Festival Society (VAFF) is a not-for-profit organization that celebrates diversity in film. The longest-running Canadian film festival of its kind, VAFF was founded by independent filmmaker and writer Barbara K. Lee in 1995 and debuted in September 1997. VAFF is entirely organized and produced by a group of dedicated volunteers, and is made possible by generous financial support from corporate sponsors, public funders and private donors. Organizers are expecting close to 4,000 audience members over the four-day festival. Now on its 23rd year, this four day festival incorporates the theme of NO LIMITASIANS, which celebrates the achievements of Asian diaspora artists and empowers aspiring artists of Asian heritage to continue pushing boundaries and challenging expectations. As new filmmakers take the spotlights to tell authentic stories, they break moulds and expose the world to a multitude of voices.