TAGALOG TIME! October 13 & 27, 2019
Pag-usapan natin sa Tagalog!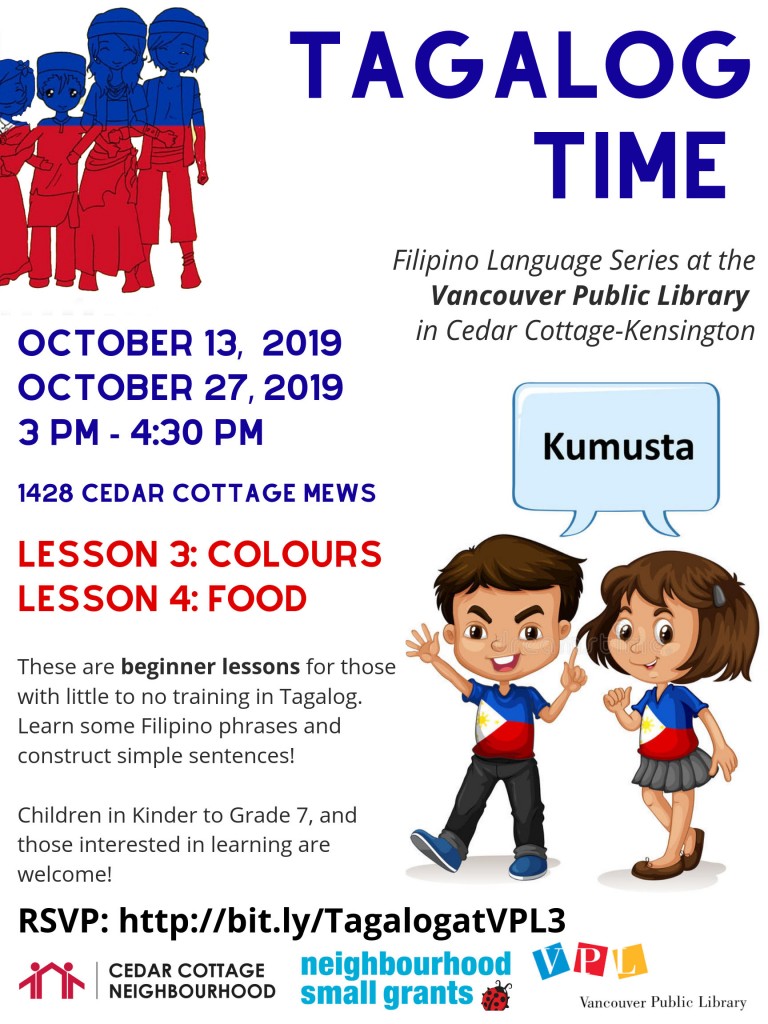 Are you looking for a welcoming space to learn Tagalog? We are hosting FREE beginner lessons for children in Kinder to Grade 7 and those interested in learning Tagalog.
October 13, 2019: Colours & Numbers
October 27, 2019: Food
Light Filipino snacks and drinks will be served. We strongly encourage you to bring your own container, cup, and utensils to make this event as low waste / zero waste as possible.
There will be some plates and utensils available.
Please RSVP and contact us if you have any dietary needs.
Location: Kensington Meeting Room at the Kensington Public Library
Contact: Nelli Agbulos at mvagbulos@gmail.com or call/text 236-330-4690.
Event Sponsors: Cedar Cottage Neighbourhood Small Grants, Kensington Vancouver Public Library, and Barangay Cedar Cottage Network
The Kensington Public Library is a fully wheelchair accessible community space at 1428 Cedar Cottage Mews.
Parking can be found either in the street or the King Edward Village parking lot accessible via King Edward Avenue and Knight Street.