SYM, A Living Legend Among Us
SYM, A Living Legend Among Us
By Sandie Oreta Gillis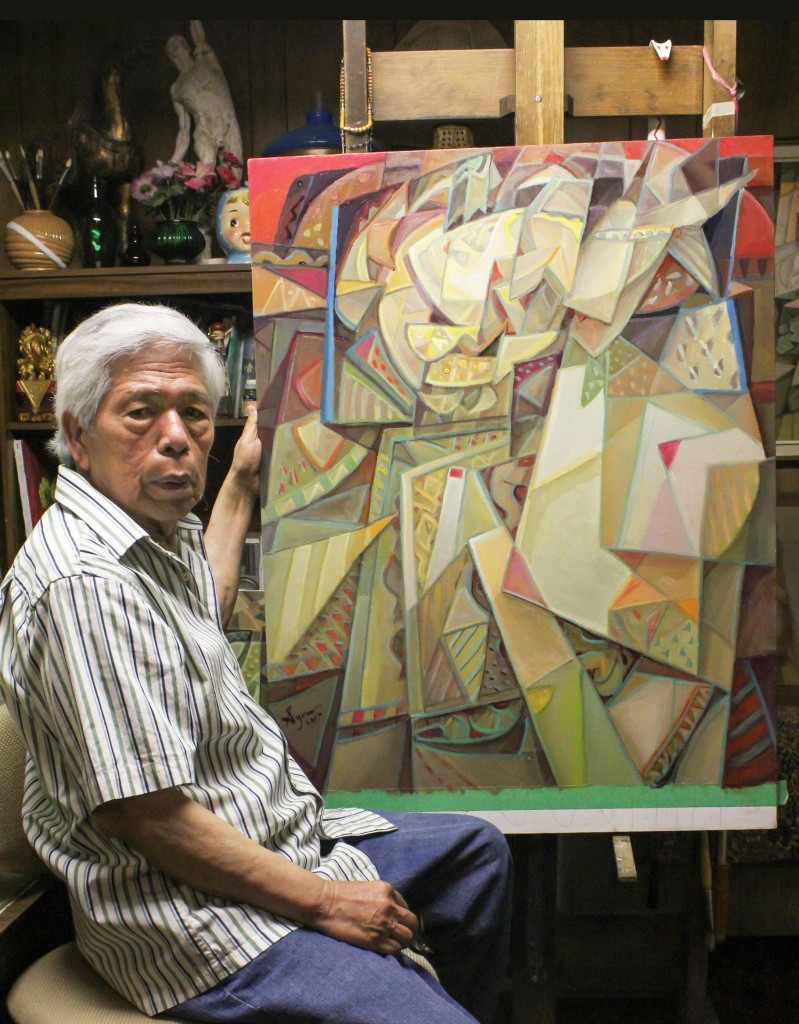 This year's cover of Dahong Pilipino features a Mother and Child painted by a Filipino master who calls Canada his second home. Sofronio Ylanan Mendoza, known by his initials S.Y.M. shares with us this study in oil entitled "Tenderness" painted in 2005. It depicts a mother in her Philippine traditional Maria Clara dress gazing fondly at her child sitting on her lap. The painting is not typically representational — it is stylized and modern in expression. Unlike other conventional artists, SYM insinuates cubism with the dissection of space in this particular piece. Looking at it from afar, you see a realistic portrait of the Mother and Child but looking closely shows an abstracted approach. As a Fine Arts student at the University of Santo Tomas and later at the University of the East (U.E.), SYM also painted in 1966 a Mother and Child in cubist style. Five other paintings of the subject matter are featured in his biography "The Power of Struggle".
The Mother and Child or the idea and expression of unconditional love of a mother had been an enduring inspiration and subject matter for artists throughout history, as SYM himself believes that the mother's love is the essence of life, "without the mother, the child will perish." The famous Renaissance artists created several renditions of Mother and Child (Madonna and Child) works of art, as with artists in pre-Renaissance. Italian artist Raphael is known for his Madonnas; Michelangelo's sculptures of the Madonna of Bruges and of his Pieta; and Da Vinci, although recognized for his Mona Lisa and the Last Supper has produced a few Mother and Child art pieces of his own.
Early recognition of SYM's talent for teaching earned him the distinguished name of "Maes" by his schoolmates and also more currently as "Maestro" conferred to him by none other than former Philippine First Lady, Imelda Marcos at the 2010 Garbo Ng Cebu (Pride of Cebu) award ceremony. SYM as a teacher covers in his art lectures to his students a wide spectrum of knowledge, from the basic fundamental principles of drawing and painting, art history, to outside-the-box nuances and approaches to art not necessarily taught in school. SYM shares his reverence to his first art teacher and mentor Martino Abellana. Given the title of "The Amorsolo of the South", Abellana opened and trained SYM's eyes on how to see and translate into the canvas. Bagging the first prize in 1967, representing U.E., at the On-the-Spot Shell National Students Art Competition, marked SYM's debut in the Philippine art scene.
In Sampaloc, Manila, there is a street named after Philippine hero Jose Rizal's pseudonym called Dimasalang. Back in the mid-60s stood a modest corner shack on Dimasalang Street where SYM lived and began his career. Artists met in his home/studio workshop before trekking the streets of Manila and the outskirts to paint on-the-spot street scenes, landscapes and seascapes. A frequent visitor was The Daily Mirror Editor-in-Chief and artist Emilio Aguilar Cruz (Abe). "It was just a group that desired to paint outside. It was a happy group mostly talking about principles of art, (various) artists and about our old masters", SYM said. When co-founders, SYM and Abe Cruz, together with artists Romulo Galicano, Ibarra del la Rosa and Andres Cristobal held their first group art exhibition in 1968, it also significantly marked the official birth of the Dimasalang Group which still robustly endures today through decades of continuing evolution. A year later after the Dimasalang Group's first exhibition, SYM had his first solo exhibition at the National Library in Manila.
Mentoring and nurturing a group of young aspiring artists in the Philippines, SYM encouraged the formation of the second group of Dimasalang artists in the mid-70s. Dimasalang II included artists Nestor Villanueva, Carlos Cadid, Godofredo Mendoza and Vic Larosa.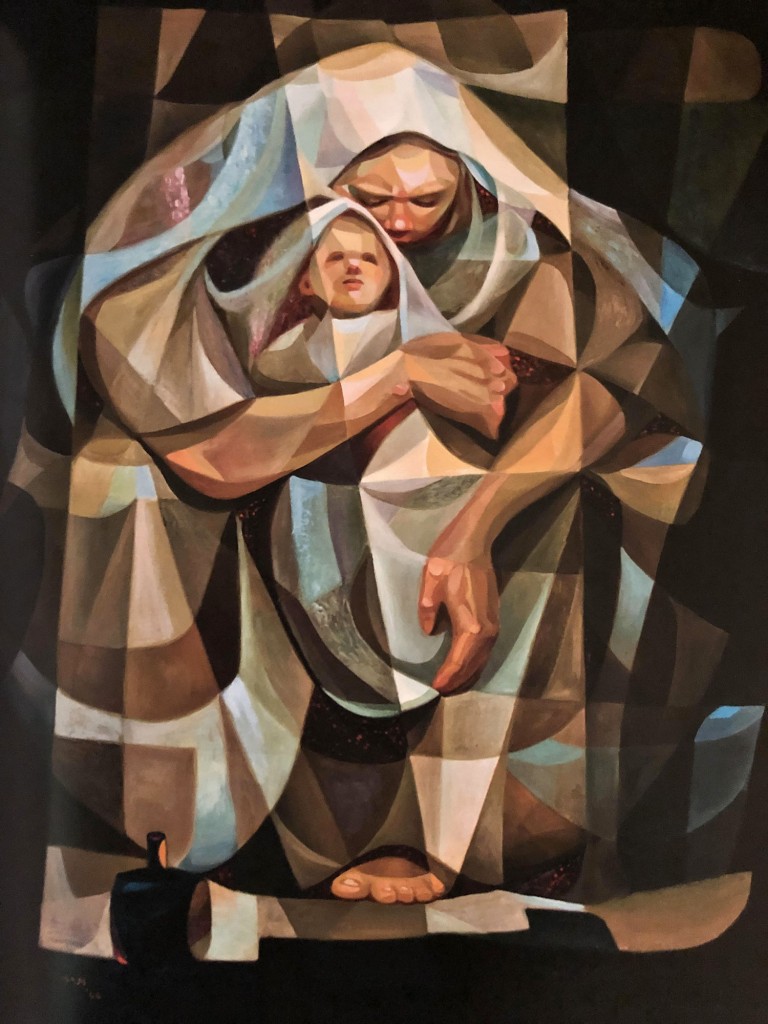 In 1981, SYM with wife Ely together with their seven children, ages one to eleven years old, immigrated to Vancouver, British Columbia, Canada. Kenneth Heffel of Heffel Gallery was instrumental in sponsoring the artist. "The essence and passion in me of the (Dimasalang) group was still there. I was thinking that someday my students would do the same as we did in Manila", SYM states. He continued to nurture and teach art to devoted young keen artists in the 80's and 90's like Edgardo Lantin, Rod Pedralba, Noel Trinidad, Maria Apelo Cruz, Simeon Dee, Andy Naval, Jess Hipolito and Leo Cunanan Jr., to name a few. They are known to paint on-the-spot in parks around Metro Vancouver, in the fishing village of Steveston and during the winter and rainy months, hone their skills doing life drawing. Dubbed commonly as the "Canadian Dimasalang," Dimasalang III International Artists Group flourished under SYM's guidance and had also become a registered not-for-profit society in British Columbia. This group commemorated Dimasalang's 50th Anniversary in 2018 with an exhibition at the Vancouver Public Library's Moat Gallery.
"Since we were fortunate to be given importance in Manila, and be part of the evolution of the history in Philippine art, my hope for Dimasalang is for its legacy to continue and prosper in the international scene," expressed SYM as the original co-founder and ever still an active figure of this group. His desire to inspire and uplift the new generation of artists has been his mission. His involvements no doubt keeps him energized and maintain a dynamic mind.
From a recent conversation with SYM, he referred to John 14:27 from the bible, Christ's words: "Peace I leave with you, my peace I give you." Extending this message and expression in his paintings – his body of work, of peace and serenity, he hopes that he has shared enough of his knowledge to his children and to the new generation of artists. And he says further, "there are many things to impart, to help them improve, especially now that I'm older, I feel my wisdom is getting clearer and clearer"
SYM at 85 years old remains faithful to his profession, his art, with the same fervour and passion as when he first started; age and age-related ailments are not hindrances to his commitment. SYM, the Maestro, the Living Legend, the rock foundation of Dimasalang; down the ages, his legacy certainly assured.