Philippines HISTORAMA Birth of a Nation on May 25 at the Frederic Wood Theatre, UBC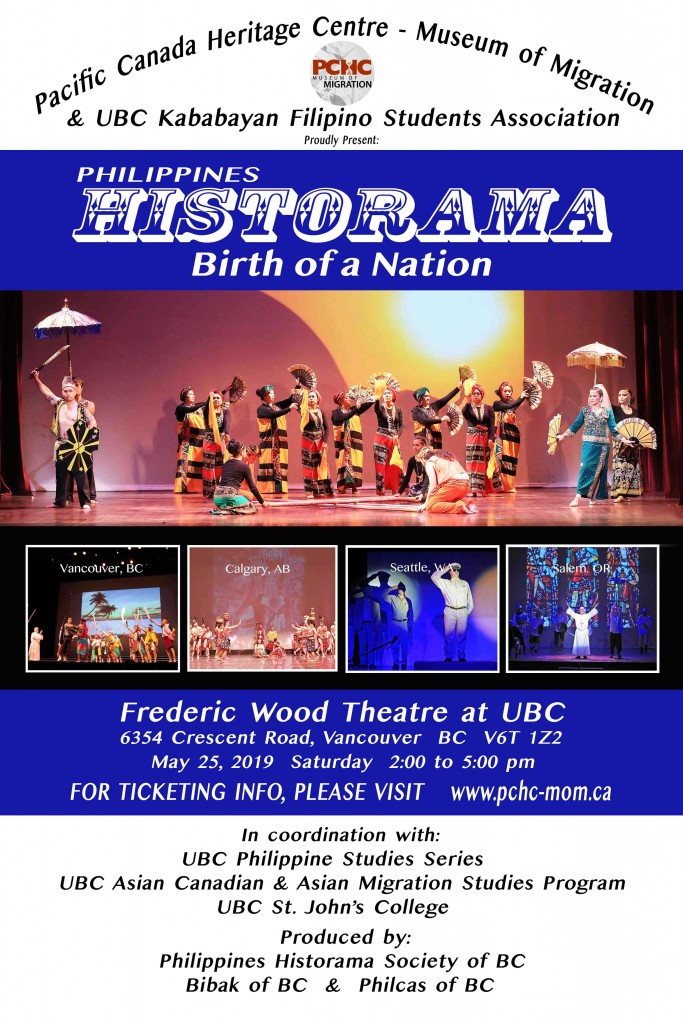 The Pacific Canada Heritage Centre – Museum of Migration Society presents:
PHILIPPINES HISTORAMA–
a successful road show brought back to Vancouver on May 25
Launched initially in Vancouver in 2012, this successful road show "Philippines Historama – the Birth of a Nation", will be presented at the Frederic Wood Theatre at UBC on May 25 from 2-5pm as part of this year's explorASIAN festival.
With a cast of over 100 local Filipino artists and performers who are volunteers from the community, Historama chronicles the struggles and sacrifices of the Filipinos and relates how they break free from the bondage of foreign colonizers and push against the mismanagement of elected government officials from the time independence was granted to the country in 1898.
"We're honoured to be asked to present the 2019 production to a broader audience during Asian Heritage Month," said Dr Tineke Hellwig, President of the Pacific Canada Heritage Centre – Museum of Migration (PCHC-MoM) Society. "There is no better way of learning about their history, struggles and aspirations than watching this live show."
Through storytelling, traditional dance and songs, this theatrical performance will help the audience understand the little-known history of one of the top sending countries of migrants and immigrants who crossed the Pacific to seek a better life for themselves and their families.
The music consists mostly of patriotic and revolutionary hymns which are contemporaneous with the key historical events from the beginning until the present, according to community advocate Carmelita Salonga Tapia, who wrote the Historama script based on the research by historian Atty. Bernardino Julve and other Filipino historians. The compositions are captivating and evoke nostalgia.
Historama was first produced in 2012 in the Queen Elizabeth Theatre in Vancouver by Philippines Historama Society of BC, Bibak of BC, & PhilCAS of BC under the auspices of past Philippine Consul General Jose Ampeso. Subsequent performances took place at the Shadbolt Centre in Burnaby; Charles White Theatre in Sidney, Vancouver Island in 2013; Filipino Community Center in Seattle, WA in 2014; Martha Cohen Theatre in Calgary in 2015; Elsinore Theater in Salem, OR in 2015; and Michael J. Fox Theatre in Burnaby in 2017.
The 2019 production at the Frederic Wood Theatre will be co-presented by KABABAYAN UBC Filipino Students Association, with support from the Philippines Studies Series, the Asian Canadian and Asian Migration Program and St. John's College at the University of British Columbia.
Event detail
Date & time:  May 25 (Sat.) 2-5pm
Venue:  Frederic Wood Theatre, UBC, 6354 Crescent Road, Vancouver, BC
Tickets:             Regular: $15 (including refreshments)
VIP:        $50 (including pre-show Filipino lunch)
MEDIA INQUIRIES: www.pchc-mom.ca
Winnie L. Cheung 張麗玲 (English, Cantonese & Mandarin Chinese)
pchc.media@gmail.com (604) 836-8838
Sophie Munk (French)
Pchcmom.intern@gmail.com
604-831-3714
Esmie Gayo McLaren (English & Tagalog)
esmie@meld-arts.com
About PCHC-Museum of Migration Society: The Pacific Canada Heritage Centre – Museum of Migration (PCHC–MoM) Society is a registered non-profit society reflecting a broad spectrum of communities—in particular but not limited to diverse Canadian communities of Asian heritage—who are committed to the vision of a new kind of museum that can appeal both to a diverse local and global audience. Their core mission is to establish a facility with a dual function of: (1) a heritage centre (the PCHC) where communities can transmit and share knowledge across generations, and (2) a Museum of Migration where the stories and heirlooms of Canada's diverse communities can come together in a shared space to tell our collective national stories.
For more information about PCHC-MoM Society, please visit: www.pchc-mom.ca