Pagbabasbas Plein Aire II with the Dimasalang III International Artist Group
Pagbabasbas Plein Aire II with the Dimasalang III International Artist Group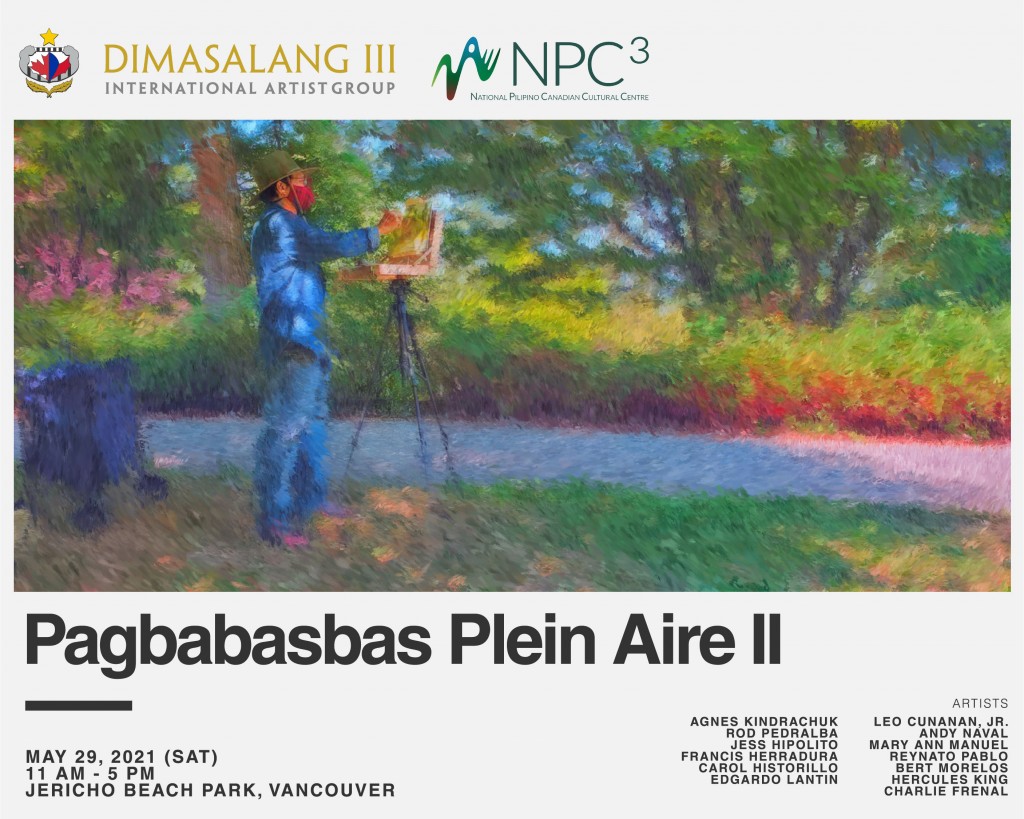 The National Pilipino Canadian Cultural Centre invited the Dimaslanag III International Artist Group to paint outdoors at Jericho Beach Park in Vancouver on Saturday, May 29th 2021, starting at 11:00 am and ending at 5:00 pm.
The Dimasalang artists group originated in the Philippines in 1968, co-founded by Sofronio Ylanan Mendoza, known for his initials SYM. Starting at the crack of dawn, most weekends, SYM, together with his artist colleagues, trek off to find a spot to paint and capture the hazy morning light. They were seen sketching and painting street scenes of Binondo in Manila; sometimes, from the rooftops of buildings. The Dimasalang artists captured sea- and landscapes, trying forever to catch that 'magical light.'
On-the-spot painting is a vital aspect of SYM's art during his formative years in Cebu in the early '60s under the tutelage of his mentor Martino Abellana who is dubbed Òthe Amorsolo of the South. When SYM moved to Vancouver in the early '80s, he initiated the concept of painting outdoors to his art students. Finn Slough and the Steveston Harbour in Richmond were some of the earlier venues. The parks like Minuro in Richmond and Queen Elizabeth in Vancouver are a few of the chosen spots where the artists meet and paint in the summer months. During the other seasons of the year, life drawing is an activity the Dimasalang III International Artist Group enjoys.
Following the pandemic guidelines of social distancing and protective mask-wearing, the public is welcome to view the Dimaslang artists in action.
ABOUT
DIMASALANG III INTERNATIONAL ARTIST GROUP
is a registered non-profit organization based in British Columbia. The group aims to raise awareness of contemporary arts and culture; provide inspiration and development of artistic talents, and to encourage a positive impact and contribution to the community. The group offers mentorship, life drawing, plein aire painting in the summertime, life drawing sessions and opportunities to join group exhibitions.
Media Contact: Leo Cunanan, Jr.
Phone: 604-737-8074
Website: www.dimasalang.org
NATIONAL PILIPINO CANADIAN CULTURAL CENTRE (NPC3)
is a registered non-profit society in British Columbia. we formed in July 2019 and currently have a charitable status under application.
Vision
Filipino Canadians self-aware of their identity and culture, proudly sharing it with Canadian society, respected, understood and embraced by all of Canada.
Mission
To provide opportunities for the education of Canadians to enhance their knowledge of Philippine history, arts, culture, language and heritage.
To advance the Canadian public's appreciation of Philippine arts and culture.
Core Values
A.E.I.O.U (Accountability Empathy Integrity Outstanding Untainted) | Inclusivity fierceness of spirit | Innovation open-mindedness | Creativity | Trust fortitude | Perseverance professionalism | Cosmopolitan | Global diaspora outlook | Resilient | Leadership succession | Long term sustainability responsible use of power and privilege
Website: www.npc3.ca