Mable Elmore, MLA, Talks About Her Decade in Politics
Mable Elmore, MLA, Talks About Her Decade in Politics
By Crisanta Sampang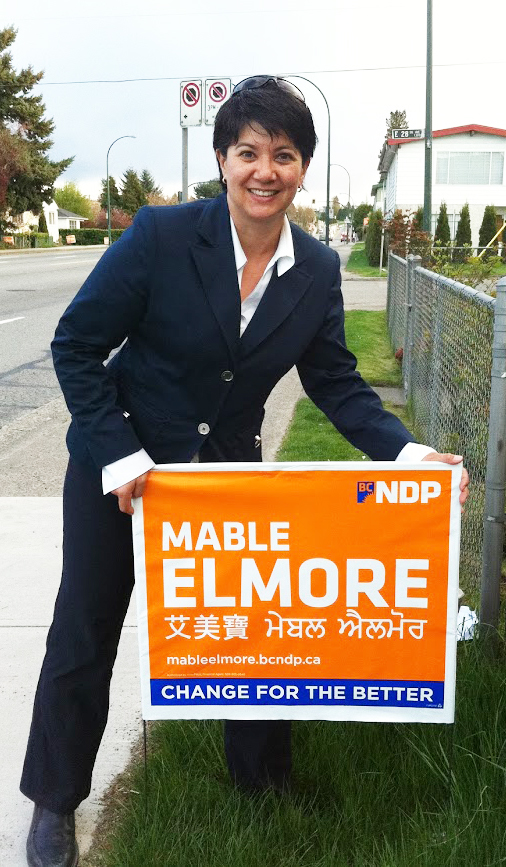 Mable Elmore remembered watching her Philippine relatives cook vast amounts of food during a town fiesta to help feed poor families in their community. Every family who attended were also given generous food packages to take home afterwards. Her mother explained that their family had a tradition of helping the poor and the less fortunate.
Elmore was ten years old at the time. She didn't think it was right for kids to live in poverty and go hungry. She wanted to help change people's lives.
By Grade 11, Mable Elmore got involved in the anti-apartheid movement. After that, in the immigrant rights movement. She has also been advocating for caregivers and migrant workers for over 27 years.
Mable Elmore was born in Langley, BC, to Ken and Maria Tabotabo Elmore. Maria Tabotabo is a retired Filipino nurse who came to work in Canada in 1965. She met and married Ken Elmore, an Irish-Canadian, while working in Prince Rupert. Mable was born two years later, and her sister Lolita after that. Life went on. In 1985, the Elmores settled for good in the Lower Mainland.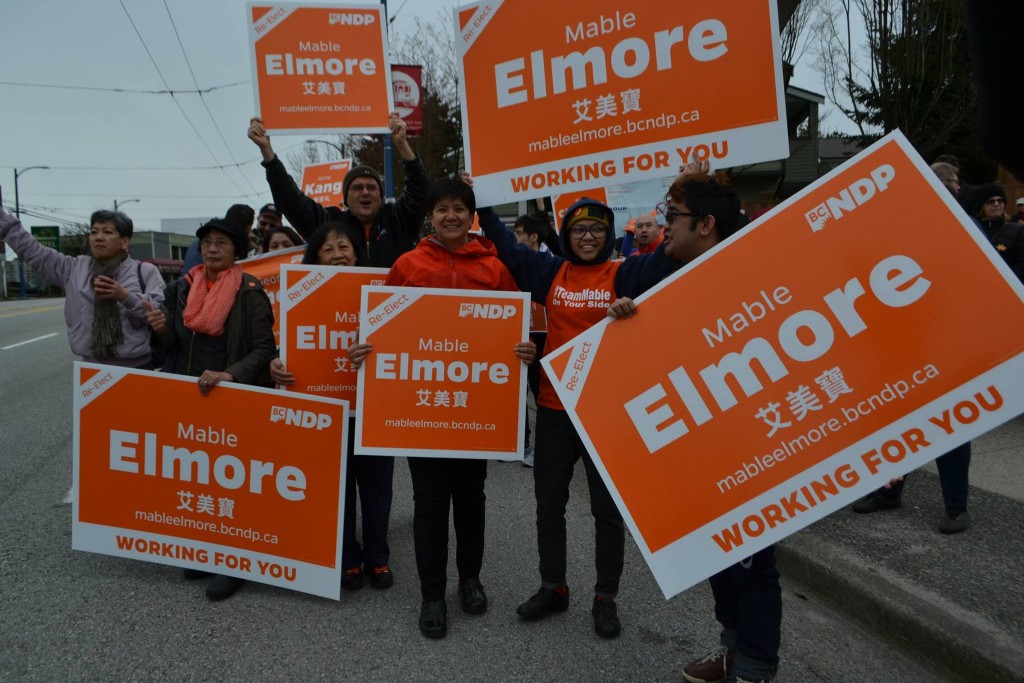 After her studies at UBC, Elmore worked as a Community Economic Development coordinator and research project coordinator for a Filipino women's organization in the early '90s. Then prior to entering electoral politics, she was a transit operator from 1999 to 2009.  Being a transit operator wasn't an easy job but she enjoyed the physicality of it. She loved working with people.  She became a member of the Canadian Auto Workers Local 111 and was later elected shop steward.
Mable Elmore's desire to help people and her advocacy roots helped propel Elmore towards leadership roles in the labour union movement. She went on to get involved in political organizing for the Vancouver and District Labour Council (VDLC), BC Federation of Labour and the Canadian Labour Congress. As well, she co-chaired stopwar.ca, an anti-war movement endorsed by over 160 organizations from BC and the Lower Mainland.
In 2002, Elmore helped campaign for Larry Campbell and his Coalition of Progressive Electors Party in that year's municipal election. Larry Campbell defeated Jennifer Clarke of the NPA by a margin of 58 to 30 percent.
By 2005, a colleague in the VDLC, Marion Pollack, encouraged her to try and become the NDP candidate in Vancouver-Kingsway.  She wrote Elmore a check for her nomination campaign and while Elmore was not successful in that campaign, she learned many lessons that she was able to apply when she ran to be the BCNDP'S MLA candidate in Vancouver-Kensington in 2009.
At first there were three people, including Elmore, who sought this nomination.  But when a very popular and strong candidate also joined, the other two backed out and Elmore became a bit rattled.  She told her mother about her concerns.
Mrs. Elmore simply told her, "You can't back out now. I already told my mah-jong group that you're running."
So, Elmore continued and as her supporters expected, she won the nomination and became the MLA candidate for VKE.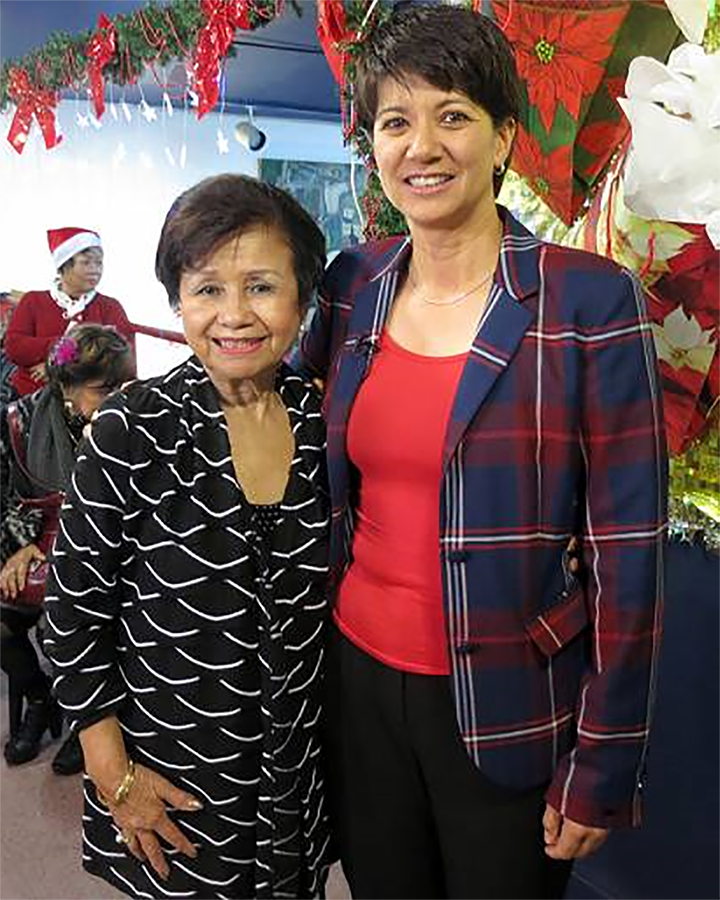 It was now time to work. Time to make history. Mable Elmore mobilized her supporters and called upon the Filipino Canadian community for help. Historically, she knew how hard it would be to unite the traditionally-fragmented Filipino community, but she asked for unity anyhow.
The community responded whole-heartedly. People were totally motivated. They knocked door to door and helped out in every way they could. Mable Elmore went on to defeat Syrus Lee, the Liberal Party incumbent, in the provincial elections. Elmore brought home 52.55 percent of the votes.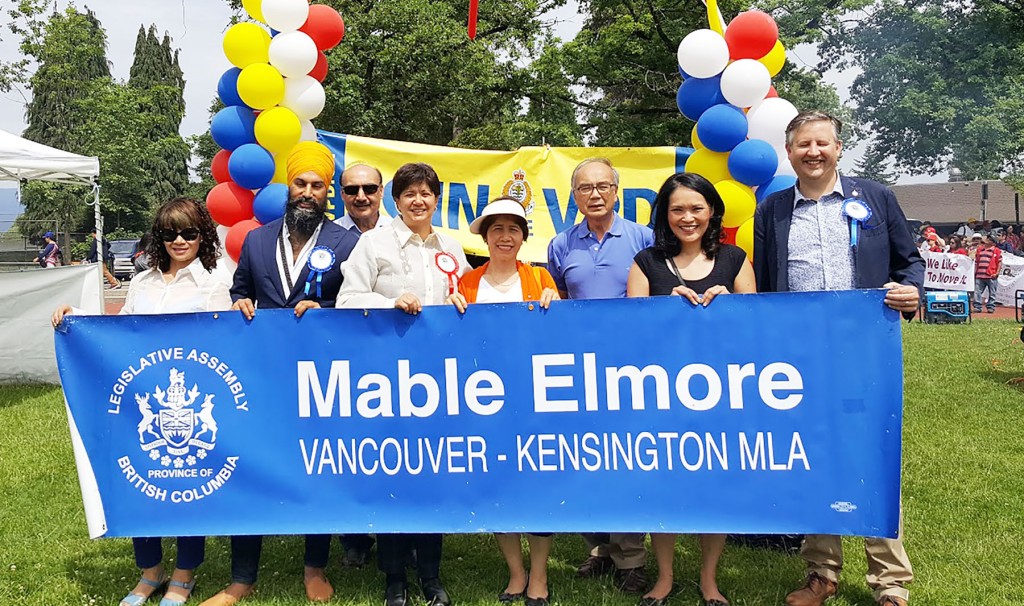 Mable Elmore was the first and still only Filipino-Canadian ever elected to British Columbia Legislative Assembly.
Recalling that history-making moment, Elmore says, "I am deeply moved by the support of the whole Filipino community. I asked the community for their support and they came through for me.  It was very humbling. I'm here to serve and I'm motivated to work with people for their empowerment.  I respect everybody. The only thing I won't tolerate is exploitation."
That was in 2009. Mable Elmore has been elected MLA for Vancouver-Kensington three times in a row now, twice as member of the opposition. The third time, in 2017, her party, the NDP, formed the government.
Since then, under the leadership of Premier John Horgan and with the help of the Green Party, the current provincial government is slowly but surely working on undoing a big number of the previous government's policies that disadvantaged the general public.  As well, they are working to improve upon and add new services to make life better for people across the province – housing, childcare, education, healthcare, arts, workers' rights, environment and climate change, transportation, diversity and human rights, to name a few.
A priority is addressing affordability and implementing a poverty reduction plan in BC. For instance, through chipping away at the housing crisis by implementing a 30-point housing plan and funding low-income housing to help British Columbians find affordable places to live; by investing billions in childcare, eliminating the MSP Premiums, lowering taxes for the middle class, restoring tuition-free adult basic English Learning. The list goes on.
Everything that the provincial government has been doing since 2017 has now started bringing positive changes in its constituents' lives.
As well, the provincial government launched TogetherBC, British Columbia's very first poverty reduction strategy, which aims to reduce both overall poverty in BC by 25 percent and child poverty by 50 percent by 2024.
As the appointed Parliamentary Secretary for Poverty Reduction, Mable Elmore is in the thick of the action. Among her tasks were to conduct consultations all over the province, meet with and hear from different communities. Everyone was encouraged to get involved:  First Nations people, representatives from municipal governments, the general population, but first of all, people who have personally experienced living in poverty. Together, based on the result of these consultations, the people identified barriers to getting out of poverty and proposed necessary solutions.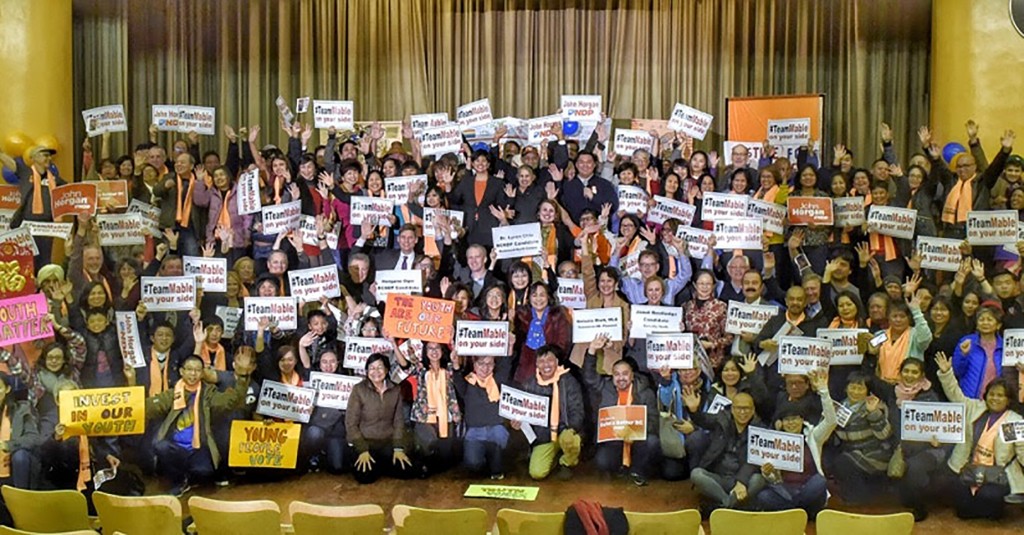 Last November 2019, Elmore celebrated her 10th year anniversary in politics. Going forward, she says her goals have not changed from when she started getting involved in advocacy and activism: immigrant and migrant workers' rights, people's empowerment and access to education. Education, she believes, helps unlock a person's potential and open opportunities for them.
And as a legislator, Elmore is committed to helping her government continue the work it has set for itself, by enacting laws that would help improve the lives of British Columbians.  She hopes the community will continue to fully participate in all areas of society to tackle the pressing challenges we face in BC and around the world.