Indomitable Canadian Filipinos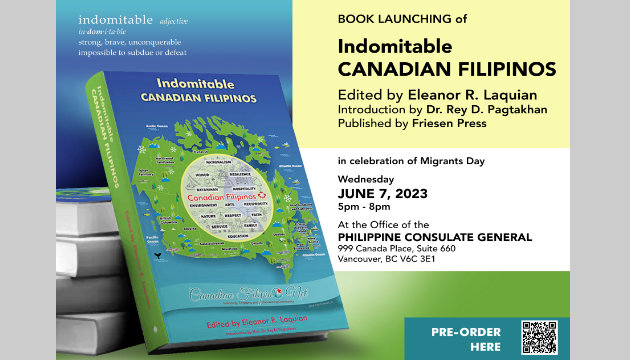 Indomitable Canadian Filipinos
– This CFNet book is now ready for sale at promotional prices of $25 CAD for paperback and $35 CAD for hard cover at this year's celebration of Asian Heritage Month in May and Filipino Heritage Month in June. Book launches are planned for May and June in Vancouver, Victoria and Toronto.The 360-paged book tells the contemporary history of Filipinos in Canada from 1950 to 2022. It is edited by Eleanor R. Laquian who also edits the digital newsmagazine Canadian Filipino.Net (CFNet), the primary source of this book's contents.

The cover, showing Canadian Filipinos with values and traditions they bring to Canada as symbolized by a white sampaguita on a red maple leaf, was designed by artist Leo Cunanan Jr, president and publisher of Dahong Pilipino, a community and business directory.

The book features over 100 articles chosen from over 1,000 published from 2016 to 2022 by CFNet, the online nationwide newsmagazine for, about, and by Filipinos in Canada. It traces the passage of over a million Filipinos into global citizenship. The book has over 150 photos in full color and stories about Canadian Filipinos who have made their marks in Canada and in the world for the last two decades. This is the first book written, published, and distributed in Canada about the Filipino community in its entirety that is national in scope.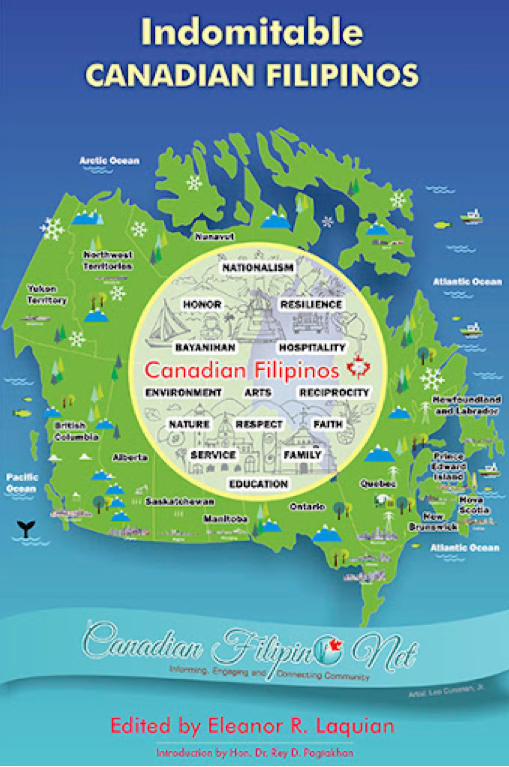 Behind the book is a group of volunteer writers with their uniquely Filipino point of view. This CFNet team of over 30 Filipinos from all over Canada contributed articles written exclusively for CFNet. They tackled issues such as the Canadian segment of the Filipino diaspora, the 1.5 and second generations as they grapple with their identity as Filipinos living as Canadians, and challenges they meet straddling East and West cultures in their journey to transnational citizenship. The writers also explain the Philippine heritage they bring and share with other Canadians, as well as the anxiety and fear of ageing Filipinos as they approach retirement and come face to face with their mortality.

Yet this is not a mere collection of published articles. It is an ongoing narrative, linking chapters from Introduction to Conclusion, by academicians, researchers, professional journalists and seasoned essayists who provide the necessary in-depth theorizing and analyzing of the 70-year history of Filipino immigration to Canada. Their bios in Appendix A are quite impressive.

The Introduction on the importance of this book to Filipinos and Canadians alike is by the Hon. Dr. Rey D. Pagtakhan, the first Filipino Member of Parliament (1988-2004). The Concluding Chapter by University of British Columbia Professor Leonora C.Angeles envisions the future of this third largest Asian immigrant group in Canada and how this fast-growing Filipino community will shape the future as national, transnational and global citizens.

Still hot from its publisher Friesen Press https://books.friesenpress.com/store/title/119734000136030098

For bulk order click here