The Generation One Art Exhibition
1 May 2017
-
4211 No 3 Road, Richmond, bc, V6X 2C3,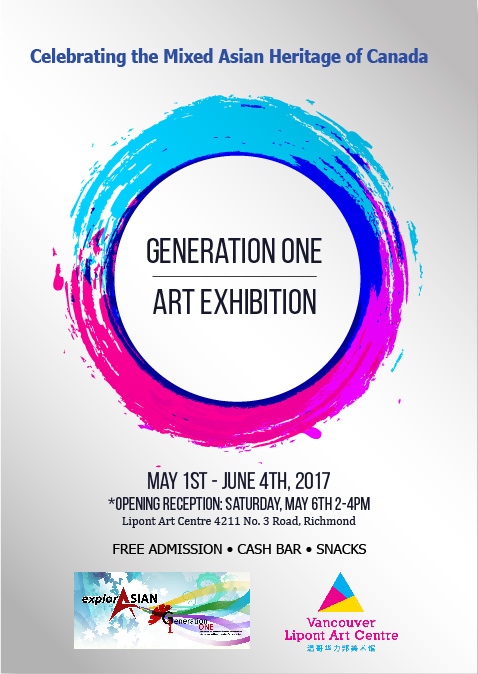 The Vancouver Asian Heritage Month Society (VAHMS) and the Vancouver Lipont Art Centre are pleased to present Generation One Art Exhibition during the 21st annual explorASIAN festival, which promotes national Asian Heritage Month in May. The Generation One Art Exhibition was created in 2009 as a signature program of the VAHMS festival to feature both established and emerging local artists, who are first-generation Asian Canadians by immigration or birth, and to provide a forum for exploring new expressions of Canadian identity. This year, the exhibition will focus on issues of social integration facing Asian Canadians of various generations.
"First-generation Asian Canadians face unique integration challenges related to language, adaptation, employment and housing issues, just to name a few," said Candie Tanaka, Chair of the VAHMS Generation One Committee. "This year's exhibition explores these issues in the context of how this synthesis might mean different things to different people, and promotes cross-generational dialogue about the subject."
The Generation One Art Exhibition is curated by a committee of experienced art professionals who are passionate about promoting dialogue and engagement through the arts. The free family-friendly exhibition will be on view from May 1 to June 4, 2017 at the newly established Vancouver Lipont Art Centre.
This year's generation one exhibition features the following artists:
Evan Leung
Xiao Feng Wu
Jenny Wang
A. Tan
Hai Ping Lee
Shyh-Charng Lo
Tony Chu
Neil Pan
Grace L. Cuenca
Ferdinand (Chito) Maravilla
Juliana Loh
Niel McLaren
The Lipont Art Centre is located at 4211 No 3 Rd., Richmond, BC, V6X 2C3
All works are available for sale with proceeds to support artists and the new art centre. For more information, please visit www.explorasian.org and www.lipont.com