SUPER TEKLA & DONITA NOSE, LIVE IN VANCOUVER
28 December 2017
6:00 pm - 10:00 pm
950 West 41st Ave, Vancouver, B.C., V5Z 2N7,
NARITO NA SILA!!!! Ang mas magpapasaya ng iyong PASKO sa Canada!!!
SUPER TEKLA & DONITA NOSE, LIVE IN VANCOUVER!!!!
Pinas Sayang Pasko
DEC. 28, 6-10PM AT Jewish Community Center of Greater Vancouver!
Isama ang buong pamilya sa walang tigil na kakatawa.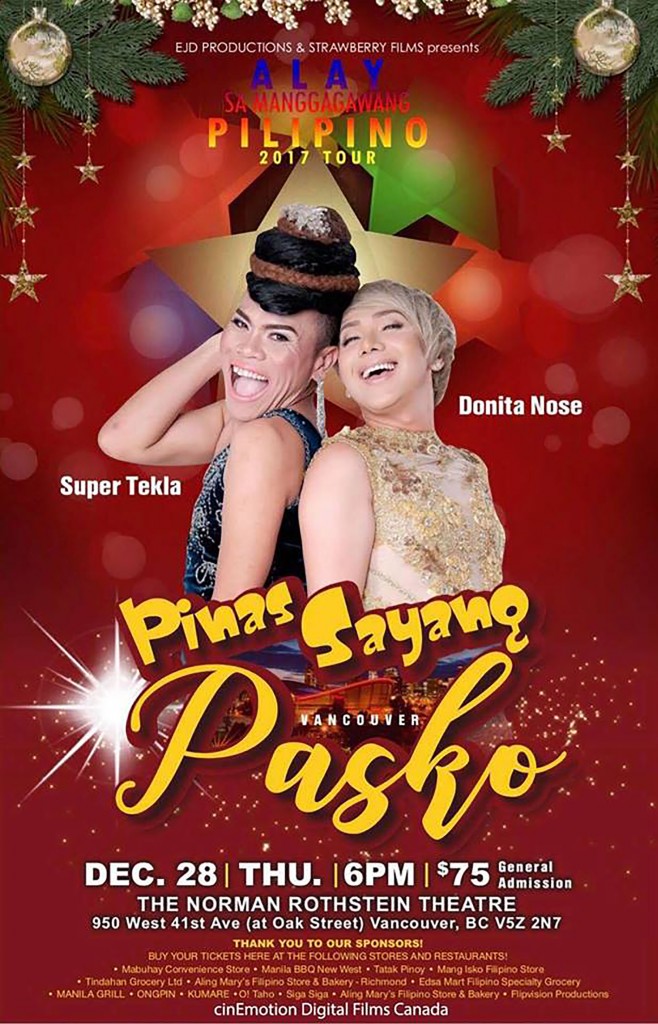 EVENT BACKGROUND
Over the last several years, a significant number of Filipino temporary workers and new immigrants have arrived in Canada. Filipino workers and immigrants can be seen in all parts of Canada, from the major cities such as Toronto, Vancouver, or Calgary, to small towns like Acme, Alberta. Their arrival has benefited the Canadian economy, filling in jobs that Canadian businesses need. The Filipinos have also benefited from Canada. Being employed allows them to support their families back in the Philippines. But this comes with a price that is often overlooked – the loneliness that many of the workers who are separated from their families feel while in Canada.
PURPOSE OF THE EVENT
EJD Productions Inc. aims to bring a small amount of joy to our Filipino workers and immigrants whose families are in the Philippines by creating an event that will feature three of Philippine's well known comedians and television personalities.
The purpose of the event is to appreciate the Filipino workers who have sacrificed one of the most important aspect of their lives – their time with their parents, kids, and spouses. We want to an event that will entertain them, to get them connected with each other, and introduce them to existing support groups that they might not know existed.
KEY COMPONENTS OF THE EVENT
1. A comedy and music act by 2 guests artists from the Philippines who are known throughout the country.
2. Invite organizations and businesses who can provide services to the Filipino workers. These include, but not limited to, immigration services, health and wellness services, employment services, financial services, etc.
3. Allow businesses to reach out to the thousands of Filipino workers and immigrants through sponsorship and partnerships.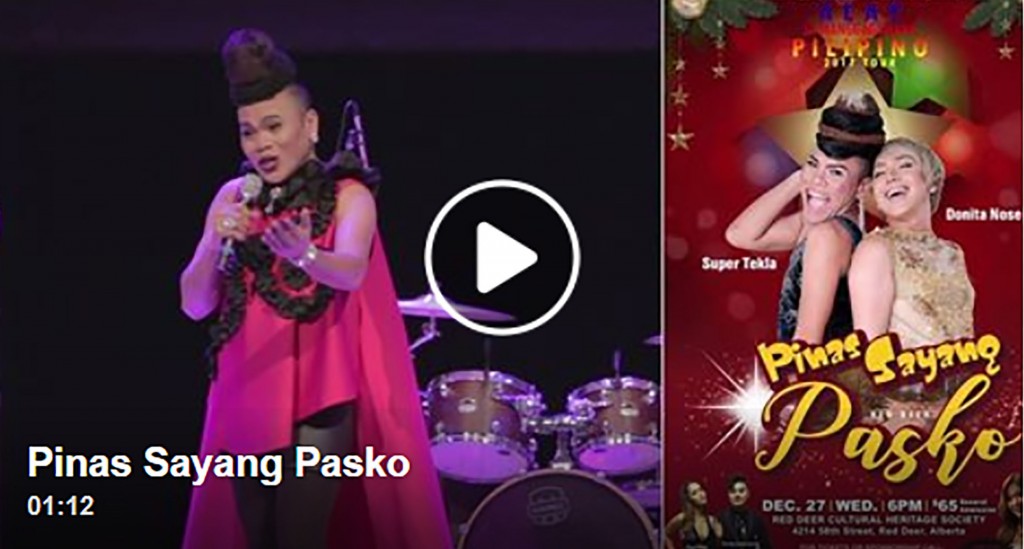 TICKETS:
Eventbrite: https://tinyurl.com/ycvjfu3y
Aling Mary's Store 13979 104 Ave Unit 103, Surrey, BC (604) 930-6059
Edsa Mart Filipino Specialty Grocery 4051 No. 5 Road Richmond (604) 370-4051
Tindahan Grocery 5960 Minoru Blvd # 120 (604) 304-0469
Plato Filipino 5175 Joyce St. (604) 559-9155
Mang Isko 4959 Kingsway, Burnaby (604) 436-4529
And from the following individuals:
Emmanuel – 778-895-2905
Helen – 6043136977
Arlene – 778-881-1504
Joan – 778926514
Jay-604.505.2153