Philippines HISTORAMA
8 July 2017
7:00 pm - 10:00 pm
7373 MacPherson Avenue, Burnaby, BC, ,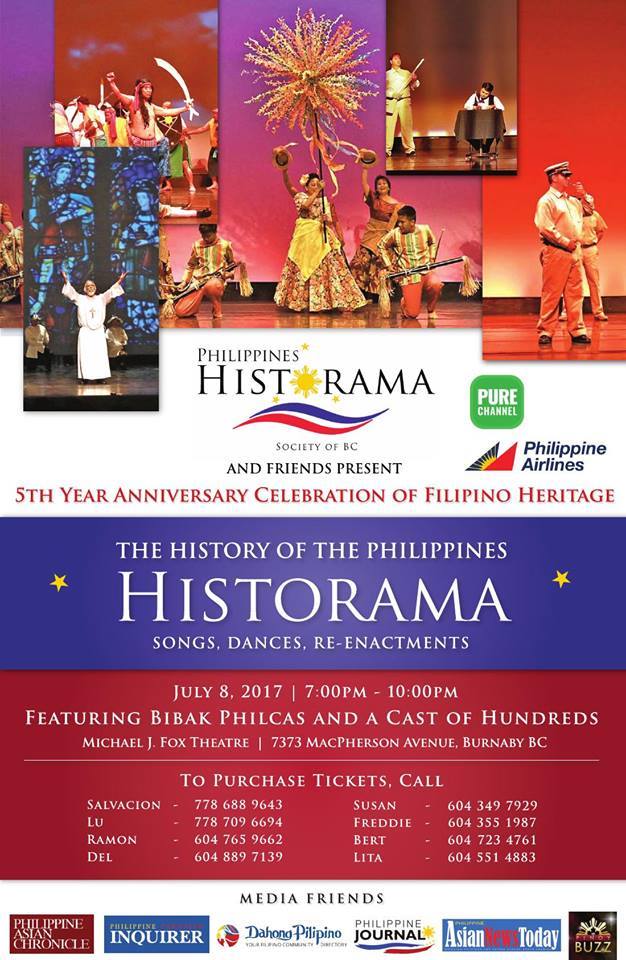 Historama at Michael J Fox from 7-10 pm Tickets at $20 General Admission and $40 – $35 – $ 30 – $25 for Choice Seats
Philippine history is an enduring legacy of Filipino heroes and legends who sacrificed their lives to see their motherland rise from obscurity to a respectable country in the 21st century.  Allegorically – it is written in blood, in tears, in deprivation, in hunger, in raw bravery, in greed for power, in shallow and hollow laughter, in jealousy, in fear, and in insatiable quest for freedom – to see the Philippine flag in the air waving proudly and independently.
Philippines  HISTORAMA, an educational/informational stage show in short plays, songs, and dances – is a factual depiction of the country's struggle from aboriginal period to the present day Republic which is being brought to life by  Filipino-Canadian community volunteers,  Canadian friends,  and Philippine Cultural Arts Society of BC,  thru PHILIPPINES HISTORAMA SOCIETY OF BC.
HISTORAMA will be on a long journey to inform the world, Filipinos and non Filipinos alike of our rich culture and heritage, of our history, and how proud we are today as FILIPINOS from the PHILIPPINES.
MABUHAY ANG PILIPINAS!  MABUHAY ANG PILIPINO!