Mount Pleasant Neighbourhood House's 40th Anniversary
10 May 2017
4:00 pm - 8:00 pm
800 east broadway, vancouver, bc, ,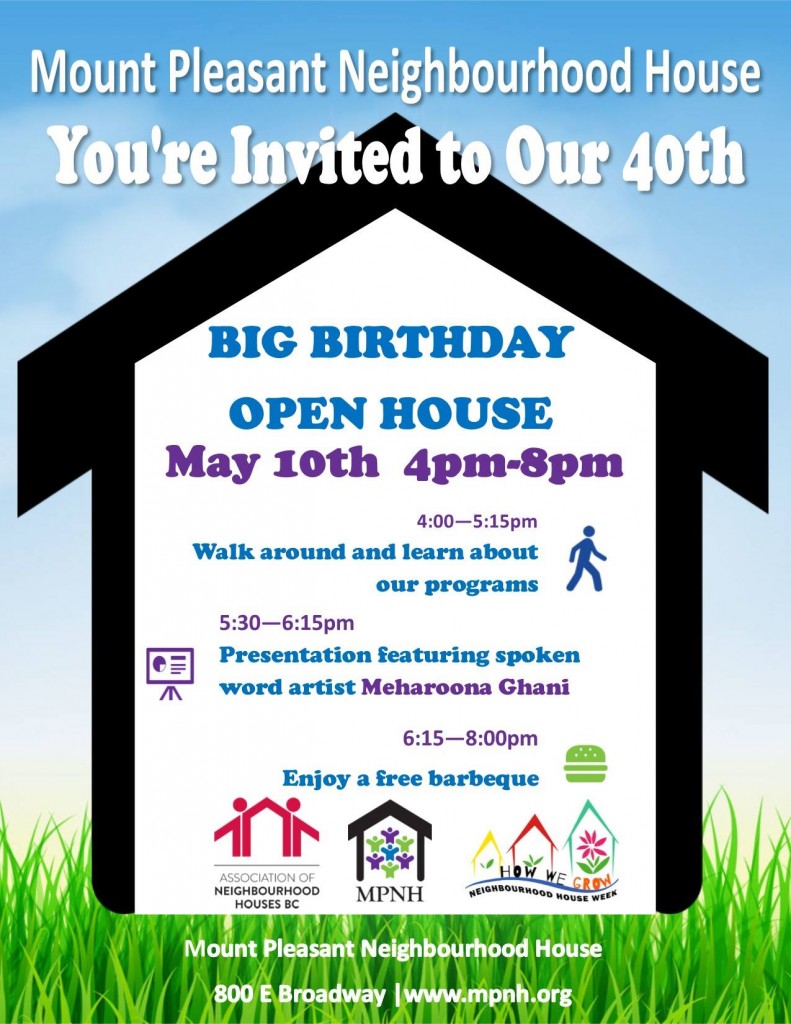 Come celebrate Mount Pleasant Neighbourhood House's 40th Anniversary with a FREE open house on Wednesday May 10th from 4:00 – 8:00pm. As part of #NeighbourhoodHouseWeek, come learn a bit about what we do, the programs we have to offer, what we've done over the past 40 years and what's to come in the future! Enjoy some free food, fun activities and crafts, entertainment and more!
Event Details
4:00pm-5:15pm – Collect stamps while walking around the House to learn about or different programs, what our Neighbourhood House has to offer and enjoy some free snacks and activities while you're at it!
5:30pm-6:15pm – Join us for a presentation in the Main Hall highlighting what we're done over the years, what's to come and a special spoken word presentation on Community by Community Engagement & Diversity Specialist Meharoona Ghani.
6:15pm-8:00pm – Enjoy a free barbeque, complete with beef and veggie burgers and a no host (cash) bar!
Visit http://www.mpnh.org/mpnh40 and www.yournh.ca for even more ways to celebrate #yournh