Don Moen Christmas concert in Vancouver!
16 December 2017
7:00 pm - 10:00 pm
3456 Fraser Street, Vancouver, BC, ,
DON MOEN CHRISTMAS – A SEASON OF HOPE
IN CONCERT WITH SPECIAL GUEST
LENNY LEBLANC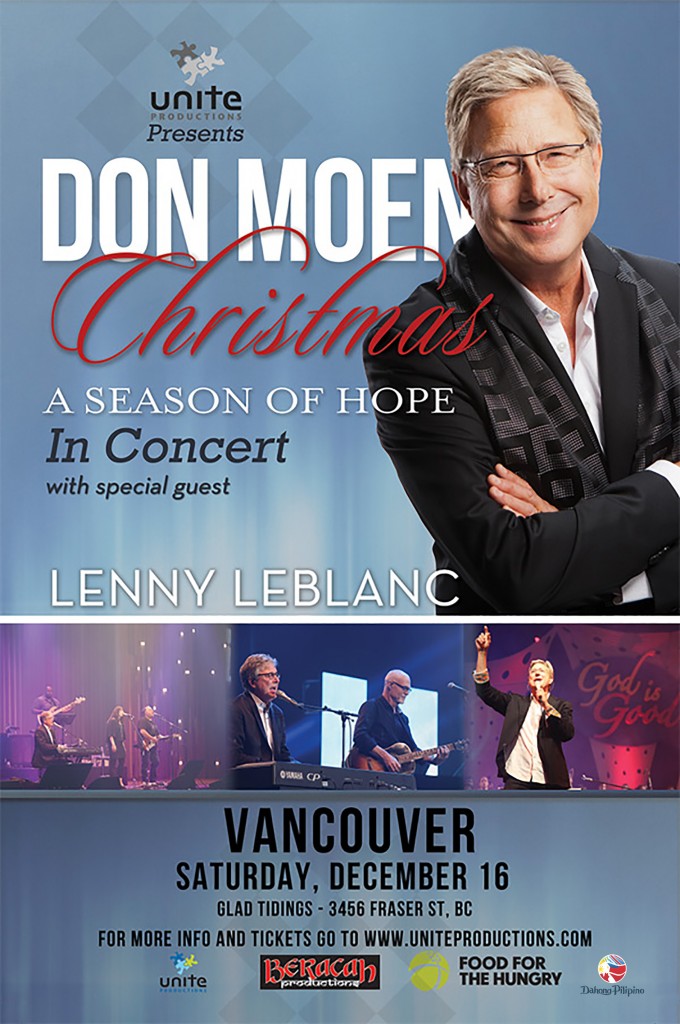 If you don't know the name "Don Moen", you surely have heard his music sung in your churches…Give Thanks (with a grateful heart), God will Make a Way (where there seems to be no way), Thank You Lord, and many, many more!
Moen is an American singer-songwriter, nominee and winner of numerous DOVE awards for artist, creator, song-writer including best musical album for God With Us, and producer of Christian worship music. He worked for Integrity Media for over 20 years, serving as creative director and president of Integrity Music, president of Integrity Label Group, and an executive producer of Integrity Music albums. His work and association with other artists and musicians is like the Who's Who of the Christian music industry. Moen was a catalyst in launching the careers of worship leaders / song-writers Paul Baloche, Darlene Zschech of Hillsong, Israel Houghton, and Hillsong United.
A Don Moen concert is always inspiring and intimate and will leave you singing along and rejoicing in the God you know and love. Don't miss this beautiful Christmas tour with special guest, well known singer / song writer Lenny LeBlanc ("Above All" co-written with Paul Baloche).
One show only in BC at the Glad Tidings church in the heart of Vancouver!*
It's going to be a great night of adoration and worship, led by one of the pioneers and leaders in the field of contemporary Christian worship music!
To purchase tickets on-line, click here: http://www.uniteproductions.ca/iwe-event/don-moen-vancouver .
DON MOEN CANADIAN CHRISTMAS TOUR SET LIST
SET 1
Thank You Lord
Arise
Love Came Down
I Offer My Life
Two Hands, One Heart
He Never Sleeps
Mi Corazon
I Want To Be Where You Are
How Great Is Our God
Above All
There Is None Like You
God Is Good
Season of Hope
Intermission // Food For The Hungry
SET 2
It's The Most Wonderful Time of the Year
Joy Medley
Mary Did You Know
Christmas Night (Lenny)
My Christmas Prayer
Holy Lamb of God
This Year (Lenny)
Angus Dei
God Will Make A Way
Season of Hope Reprise
*The Don Moen Christmas tour across Canada is presented and produced by Unite Productions!
http://www.uniteproductions.ca/