Dimasalang III International Artist Group Art Exhibition May 1 – 31st, 2018
PAN ASIAN ROUTES Art Exhibition – DIMASALANG TURNS 50
May 1-30, 2018
Opening Reception: Thursday, May 3rd, 6:00-8:00 p.m.
Moat Gallery, Vancouver Public Library Central Branch, 350 West Georgia Street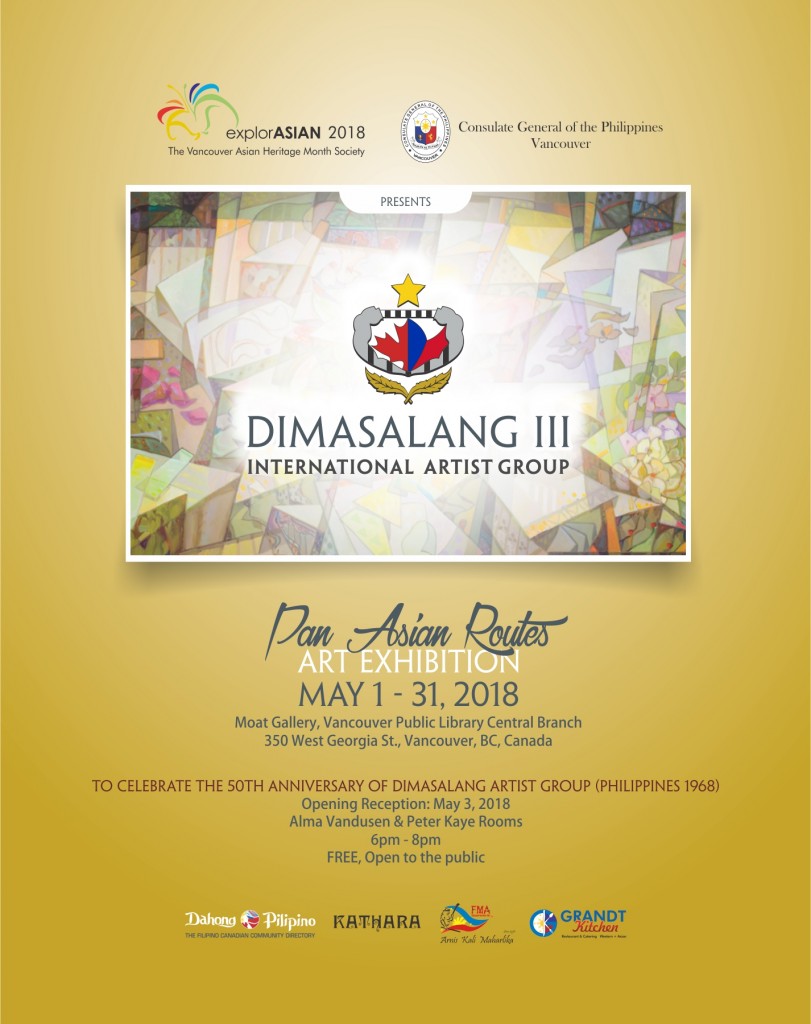 The Vancouver Asian Heritage Month Society (VAHMS), The Consulate General of the Philippines, Vancouver in partnership with the Dimasalang III International Artist Group, will present an art collective exhibition entitled "Pan Pacific Routes – Dimasalang Turns 50" at the Moat Gallery of the Vancouver Public Library Central Branch, 350 West Georgia Street during the explorASIAN 2018 National Asian Heritage Month in May. New works by Dimasalang artists, led by co-founder SYM Mendoza, will showcase paintings reflecting on the artists' interpretation of his/her culture and origins.
2018 marks the Dimasalang Group's 50th anniversary. The group was co-founded by SYM Mendoza and late artist-writer E. Aguilar (Abe) Cruz in Manila, Philippines in 1968. "The upcoming Dimasalang III exhibit will celebrate the anniversary of the founding original Dimasalang I Group of artists in the Philippines, followed by Dimasalang II also in Manila, and Dimasalang III in Vancouver when SYM moved to Canada in 1981 and mentored aspiring Filipino Canadian artists. It will also celebrate the sharing of works of Dimasalang III members to the mainstream society in the heart of Vancouver's Central Public Library," respected Filipino-Canadian community leader Leonardo Cunanan, Sr. states.
The word Dimasalang was coined by Philippine national hero Dr. Jose Rizal who used this term as pseudonym in the books he wrote; and later a street in Manila was named after this alias. In the 1960's, Dimasalang Street was home to SYM and the birthplace of the artist group. In Canada, SYM felt an inherent need to revive the group he formed in his new home. Also tagged the Canadian Dimasalang, this registered non-profit society Dimasalang III International Artist Group, was established.
Opening reception is scheduled on Thursday, May 3rd from 6:00-8:00 pm at the Alma Vandusen & Peter Kaye Rooms. The vibrant KHATARA Pilipino Indigenous Arts Society and the exciting Filipino Martial Arts Arnis Kali Maharlika, will grace the event with memorable performances. In the spirit of commemorating Canada's diversity, the "Pan Pacific Routes – Dimasalang Turns 50" art exhibition aims at proudly sharing its rich and proud Filipino culture.
Free to the public, the art exhibition runs from May 1-31, 2018.
Opening reception Thursday, May 3rd, Moat Gallery's Vancouver Public Library Central Branch.
Photos by Arex Ramos