Celebrating Filipino Roots in Weaving Our Dreams
 Celebrating Filipino Roots in Weaving Our Dreams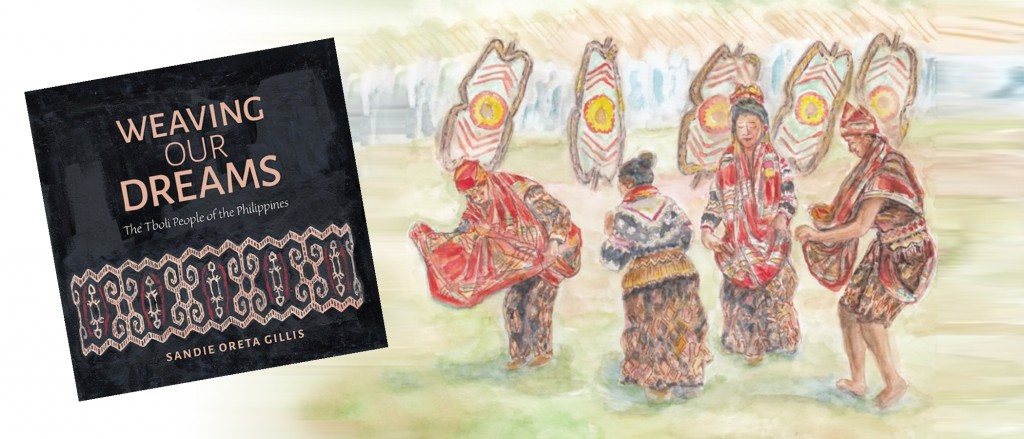 The book Weaving Our Dreams: The Tboli People of the Philippines written by Sandie Oreta Gillis explores the fascinating culture of an Indigenous community from the hidden rainforest of Lake Sebu, South Cotabato in Mindanao. It introduces Dreamweaver Barbara Ofong and musician/performer Maria Todi and provides a glimpse of the Tboli way of life through their eyes. These two women are passionate about preserving their culture, traditions, lands and connections with nature.
The hand-woven tnalak fabric is sacred to the Tboli people. The weaving of the tnalak has been a tradition passed down through generations. These complex patterns and unique designs come from the Dreamweaver's imagination with guidance from the spirit of abaca known as Fu Dalu. Culture bearer Maria Todi, who runs the School of Living Traditions in Lake Sebu, plays a vital role in protecting the cultural heritage of her people.
"It is as if one is reading a tale from an elder of a community, teeming with vignettes and anecdotes on the lives of the persons discussed as well as their vibrant culture. The biographical sketches are intertwined with stories of struggles, hope and celebration," excerpt by journalist Edgar Allan M. Sembrano, Daily Tribune on reviewing Weaving Our Dreams.
The diaspora of Filipinos to Canada and around the world is tangible. Many immigrants and their descendants seek to rediscover their roots. Celebrating the rich and diverse art and culture brings communities together and creates a sense of belonging.
Sandie Oreta Gillis holds a degree in Broadcast Communication from the University of the Philippines (1981). She co-hosted a radio morning talk show at Radio Veritas in Manila before migrating to Canada in 1983. Gillis co-authored and collaborated with Alfredo Roces on the biography of legendary artist Sofronio Y. Mendoza in SYM: The Power of Struggle. She is a freelance writer who supports Philippine arts and culture and finds joy in writing about the country's heritage, history and traditions. Gillis contributes articles to Positively Filipino, Dahong Pilipino and various media outlets. She serves as voluntary Board Director of the Dimasalang III International Artists Group (www.dimasalang.org) in Vancouver.
In 2021, emerging Mindanaon artist and book designer Francis Herradura and Sandie Gillis founded the Narragila Culture and Arts Foundation (www.narragila.org). The non-profit society aims to inspire and support artists and culture bearers.
The book is available on the FriesenPress Bookstore, Amazon, Barnes and Noble and online retailers. Author's website: www.sandiegillis.com