Catanduanes International Association has a new President
CATANDUANES INTERNATIONAL ASSN HAS A NEW PRESIDENT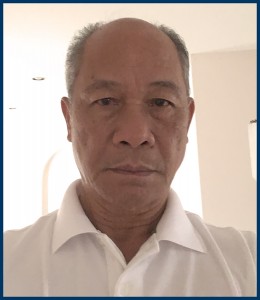 Pio Ocol, Jr., recently assumed the position of President of the Catanduanes International Association, Vancouver Chapter, formerly held by Arnel Angel Tabo in accordance with an election agreement in 2017.
The new president worked for Canada Post for 30 years and retired from the Coding and Mech Department of the corporation on September 8, 2008. He was an active member of the
association since its formation and was elected vice-president in a previous election. He is also a supporter of other community organizations. Ocol is married to the former Letty Tubeo who is currently treasurer of the association.
The other current officers are Arnel Angel Tabo, vice-president; Maribel Abundo Sprecher, secretary, Letty Tubeo, treasurer; Evelyn Suarez, asst. treasurer; Evelyn Traquena, auditor; Louie Tud, PRO; Roger Buendia and Josie Reuter, business managers; Ted Traquena, Ricardo Angeles and Karlo de Vera, peace officers.
The Catanduanes Association, Vancouver Chapter was organized in 1997 by former residents of the island of Catanduanes to participate in the Medical Mission sponsored by the association every three years that had given free medical treatments and medicines to thousands of indigent patients in the province. It has also joined other activities of the local Filipino Community like the Philippine Independence Day celebrations, raising funds for the victims of calamities in the Philippines and others.
Pio Ocol Jr. recently announced that the Catanduanes International Association will hold its AUTUMN BARN DANCE on Saturday, October 19, 2019, 6:00 pm at the Immaculate Conception Hall, 8842 – 119th Street in Delta to raise funds for the Medical Mission on January 20-24, 2020 in Virac, Catanduanes, the capital of the province.