Canadian Red Cross' Fundraiser for Typhoon victims in the Philippines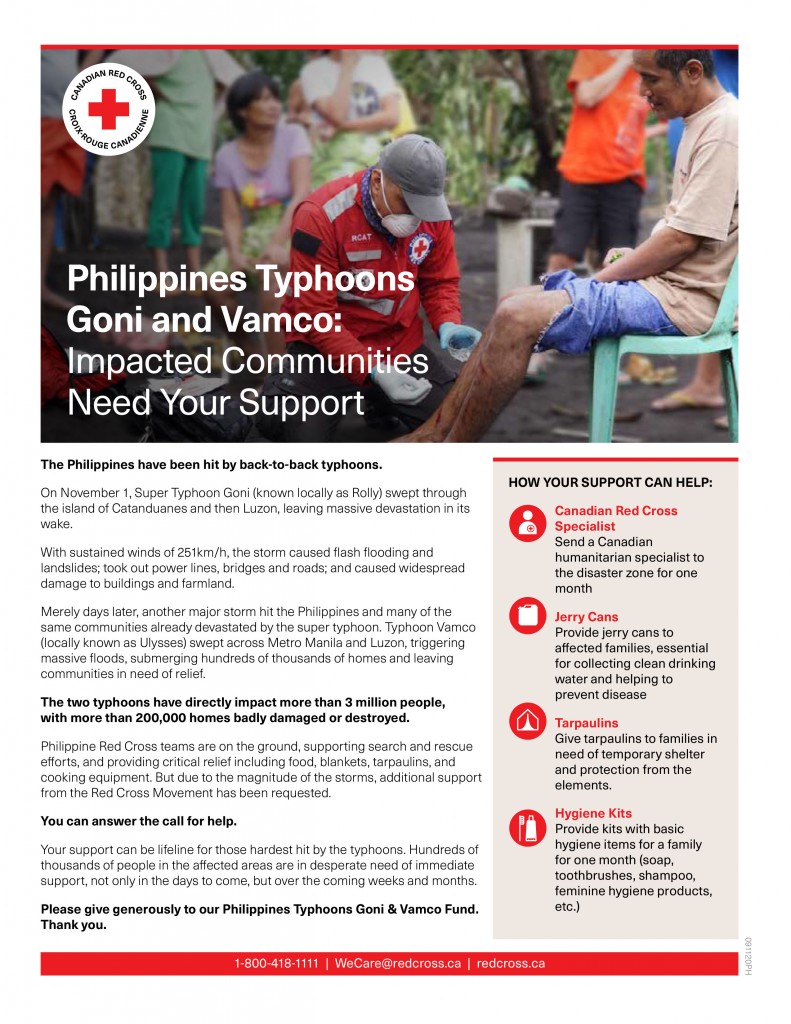 Surrey Philippine Independence Day Society (SPIDS), the long-time organization of Filipinos in Surrey, through its President and Founding Director, Narima Dela Cruz, was officially informed by Jennifer Wong, the Community Engagement Manager for Canadian Red Cross (CRC) BC and Yukon, that a dedicated Appeal has been set up for the recent typhoons in the Philippines.
Early this November, the Philippines was hit with two massive typhoons within ten days of each other: Typhoon Rolly (international name Goni) and Typhoon Ulysses (Vamco).
On November 1, Super Typhoon Goni struck the Philippines with sustained winds of 225 kilometers (140 mph) and gusts as high as 310 kilometers (195 mph). The typhoon killed more than 20 people and displaced more than 517,000.  On November 11, 2020, Typhoon Vamco made its first landfall at 11 p.m, with sustained winds of 150 kilometers (90 mph) and peak intensity winds equivalent to a category 2 hurricane. The typhoon cut power to millions, affected more than 720, 000 families and killed 73 people as of November 17th update.
The country has been hit directly or partially by 8 different storms since the start of October 2020, and Typhoon Vamco is the 21st storm to hit the country this year. The situation is particularly dire because local government emergency response funds have been depleted by the coronavirus pandemic.
While communicating directly to CRC, inquiring and advocating at the same time, for an open dedicated appeal to the Philippines, Dela Cruz already set up a Facebook Fundraiser for Canadian Red Cross on behalf of Surrey Philippine Independence Day Society (SPIDS) and 2 co-organizers, a Filipino group in North Vancouver, and the advocacy group Global Pinoy Diaspora Canada (GPDC), based in Vancouver.
SPIDS has a standing record of 100% proceeds fundraising for Canadian Red Cross in 2011 and 2013 (in 3 different collaborative projects) respectively, which helped to yield in excess of $178,000 towards disaster relief around the world. This was documented in a certificate Dela Cruz acquired from CRC in 2015.
Fundraiser link:  https://www.facebook.com/donate/373215427095876/
For more information, contact:
Narima Dela Cruz
Tel. 604-329-6698
narimadelacruz@gmail.com
For Canadian Red Cross:
Jennifer Wong, Manager, Community Engagement
Tel. 604-787-8922
Jennifer.Wong@redcross.ca