Ang Arte (The Arts)
Co.ERASGA in association with NPC3 (National Pilipino Canadian Cultural Centre) present
Ang Arte – The Arts in celebration of Asian Heritage month of May 2021.
May 23/Sunday 2021 @ 7pm via zoom
To attend register here: https://bit.ly/3cGysuL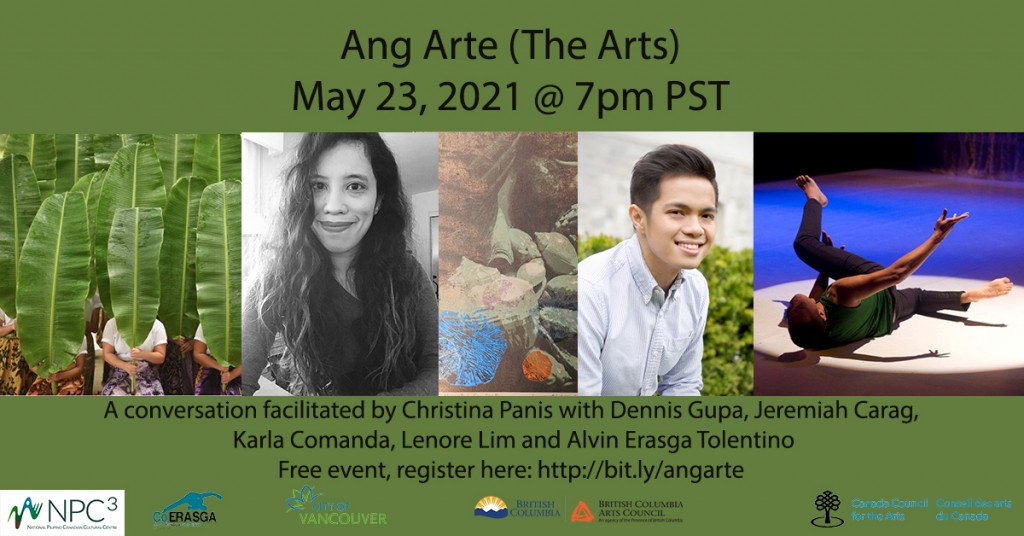 We are proud to feature the artistry of NPC3 artistic principals through an online artspresentation of their works in "Ang Arte". This collective conversation brings togetherVancouver based Filipino artists: poet/writer Karla Comanda, theatre director/performancemaker Dennis Gupa, classically-trained singer Jeremy Carag, visual artist Lenore Lim, anddancer/choreographer Alvin Erasga Tolentino.
Moderated by Vancouver's Filipina community leader Christina Panis, this online conversationwill also showcase the artistic breath of each artist's craft and discipline that explores creativewriting, theatre/performance, music, visual arts, and dance rooted within the traditional andcontemporary arts praxis.
We invite you to converse with the artists in this event that weaves personal stories, diasporicexperiences, artistic processes, and aspirations for a communal exposition of a much awaitedPhilippine center for the arts, humanities, and community-engagement-arts programming inVancouver as envisioned by NPC3. Drawing on the vernacular colloquial term, "Ang Arte", (thatusually means "finicky" or "fastidious") the artists share their insights on the rigours, joy, andcourage of creating arts that highlight the Pilipino cultures in the diaspora in Canada and theglobal site.
Co.ERASGA gratefully acknowledges the partnering support of NPC3 and the public funding through theCanada Council for the arts, BC Arts Council, BC gaming commissions and the City of Vancouver.